Building People Power
People everywhere want to live in thriving communities, with healthy and clean water and air, forests and wildlife.
We help people all around the Pacific Rim participate in civic organizations and build strong, healthy communities.
People need information to know if their river is clean—or awash in toxic pollutants dumped from the local factory.
When there are problems, they need to know how to make themselves heard and push those in power to pay attention to their concerns.
If their demand for cleanup falls on deaf ears, they need ways to speak up for their rights and seek justice in court.
We give people the tools they need to create just communities and healthy environments.
We don't inherit the earth from our ancestors, we borrow it from our children.

David Brower

Pacific Environment's support lets us take school children into Kamchatka's pristine wilderness. These field trips awaken in city folk a deep love and respect for nature—some may even become future environmental activists who will teach others what they have learned here.

Michail Yurevich Kovalyov, Director, Raduga Biostation, former partner in Kamchatka, Russia
Leaders
Local Power
International Rules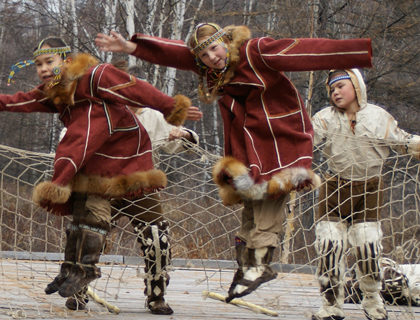 Natural resources are central to the lives of indigenous peoples. Here, salmon is referenced in a traditional dance. (Photo: Olga Moskvina)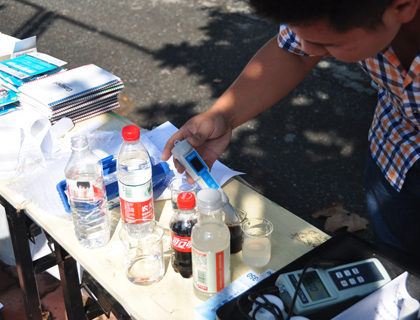 We train people to identify concrete violations of environmental and health laws and push for action. (Photo: Pacific Environment/Partner)
We Build People Power
We give people on the ground the resources and technical know-how they need to lead in their communities and advocate for clean air, clean water, people's rights, and community-based management of natural resources.
Local people are often the strongest champions of environmental protection. We offer one of the very few granting and training programs that systematically helps grassroots leaders become powerful advocates for their communities and the natural environment.
People need information to be able to participate in public decisions and seek justice for harm they suffer. We help partners gain access to information through field work and disclosure requests. We foster partnerships among communities, businesses and government officials to protect resources. And we support legal action to win victories for our oceans, the climate, and people.
Industrial development and resource exploitation are encroaching on indigenous communities' territories and cultures. We collaborate with local partners to develop sustainable economic alternatives that feed families, sustain cultural traditions, and protect the lands and wildlife local people depend on. We also support indigenous efforts to shape the laws that affect their lives.