Our Lives Depend on Healthy Waters
We swim, surf and snorkel in the ocean. We raft and fish on rivers. We boat on lakes. These waters provide us with water to drink and fish to eat. They nourish our minds, bodies and souls.
Wherever water flows on this planet, there is life. Rivers gave birth to human civilizations. Oceans regulate our climate and absorb carbon dioxide. Yet we pump chemicals into our rivers and dump trash into our oceans.
If we want to ensure that future generations can enjoy a vibrant blue planet, we have to take better care of the very source of all life on earth.
No water, no life.
No blue, no green.

Sylvia Earle, Legendary Ocean Researcher

Pacific Environment helped us access new knowledge and skills, giving us a more strategic understanding of how to protect our waters.

Wu Yunli, Green Stone, Water Protector and Partner in China
Arctic
China
Russia
Southeast Asia
California and Hawai'i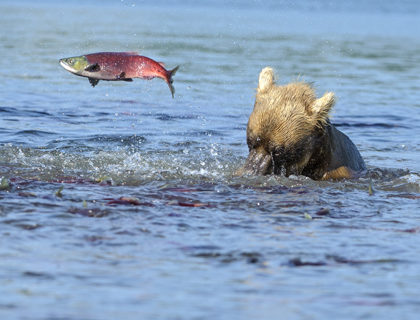 Rivers connect land and ocean life. (Photo: Igor Shpilenok)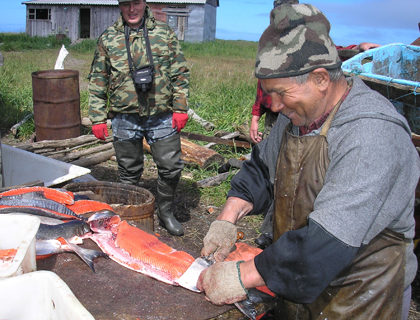 Fish is a primary source of protein for millions of people around the Pacific Rim. (Photo: Misha Jones)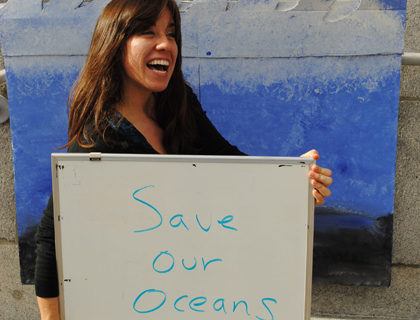 We collaborate with local partners to develop community-led solutions to pollution and we lead international coalitions that write strong laws to protect the ocean. (Photo: Pacific Environment)
Mobilizing People to Protect Our Water
Groundwater pollution and overuse by heavy industries and agriculture are leading to water shortages. Millions of people lack access to clean drinking water.
We are a key partner to grassroots leaders who are dedicated to cleaning up our polluted rivers, lakes and seas. We also partner with environmental allies and indigenous leaders to protect sensitive marine waters and wildlife from disruptive, and sometimes deadly, ship traffic.
Rivers are a critical source of clean drinking water. We train partners to build sweeping volunteer networks that mobilize local people to patrol rivers and report pollution from factories and mines, so that they can be cleaned up or shut down.
The ocean is turning into our trash can. We collaborate with local communities to improve garbage collection and storage to stop the flow of trash into the oceans.
Pristine ocean areas are disappearing fast. We work in coalition with environmental allies, indigenous leaders, anglers and other outdoor enthusiasts to protect the Yosemites of our oceans.
Ships kill wildlife with ship strikes and disturb migration, breeding and feeding patterns. We work with local and indigenous leaders to steer ships clear of wildlife and stop them from dumping their waste into the ocean.
Local communities and indigenous peoples depend on healthy waters for food, prosperity and cultural sustenance. We partner with local leaders to protect local rivers, coasts and ocean life.