It's High Time for Ships to Stop Using 20th Century Fossil Fuels in the 21st Century
Use of fossil fuels to power ships is threatening marine ecosystems, people's health and the global climate. If the international shipping industry were its own country, it would be the world's sixth largest climate polluter, between Japan and Germany. The worst offender of all: heavy fuel oil. Shipped as cargo or used as engine fuel, the only oils denser than this fuel oil are used for asphalting streets and sealing roofs.
Pacific Environment has always been able to accomplish tough goals. Its efforts to push for a ban of dangerous fuel oil in Arctic waters shows they are at it again.

Charles Moore, formerly Program Officer, JM Kaplan Fund
2018
2017
Fall 2016
Spring 2016
Fall 2015
Summer 2015

In the Arctic, heavy fuel oil threatens some of the world's largest seabird colonies and populations of whales, seals, and walrus. (Photo: NOAA)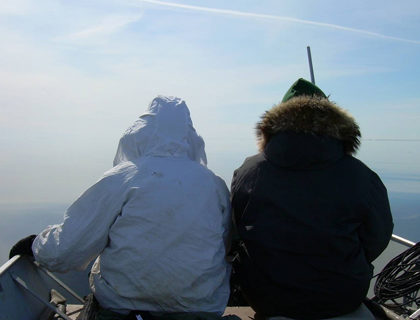 Indigenous peoples across the Arctic practice traditional ways of life closely connected to the waters on which they rely for food. (Photo: Austin Ahmasuk)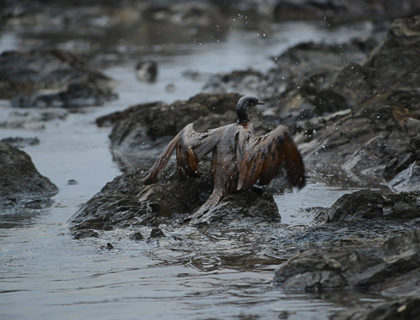 One of the most serious threats from increased shipping in the Arctic and Southeast Asia is a heavy fuel oil spill. (Photo: Pacific Environment/P)

Southeast Asia is home to the world's heaviest ship traffic and will likely bear the brunt of the industry expansion in the next three decades—and its air and water pollution. (Photo: Roberto Venturini CC BY 2.0)
Fighting at the Highest Levels to Move Ships Off Fossil Fuels
Ship traffic across the world's oceans has quadrupled over the past 20 years. We are fighting to transition all ships from old fossil fuels to new, cleaner energy sources to minimize shipping's contribution to climate change.
Strategy
We lead a coalition of international environmental allies at the highest international levels: the International Maritime Organization (IMO). We have rare permanent consultative status at the IMO, which allows us to help write ocean laws that protect people, wildlife and the climate from top fossil fuel threats. Together with allies, we apply intensive advocacy pressure to IMO country delegations and key players in the shipping and shipping insurance industries. We do this by mobilizing grassroots pressure. We advocate directly to country delegates and industry groups. And we apply complementary "grass-tops" pressure to outside decision-makers who have the power to sway delegate opinions. We also counter attempts by industry lobbyists to preserve the fossil fuel status quo. We complement these efforts with public education by working with journalists to highlight key issues in the media.
Impact
Oil Spills
We seek to ban dangerous fuel oil in the Arctic because experts have determined that the single greatest threat posed by a rise in ship traffic to the integrity of the Arctic's marine mammals, birds, and fish ecosystems is a heavy fuel oil spill.
Emissions
Ship exhaust is one of the main sources of air pollution in the open seas. A ban on heavy fuel oil will help curb black carbon emissions, a powerful pollutant that harms human health and accelerates climate change. We are also working to lower global sulfur emissions on the high seas and establish even more stringent sulfur emission standards along Arctic and Southeast Asian coastlines.
Clean Energy
We advocate stronger fuel-efficiency and greener design standards. We pressure the State of California to transition harbor crafts to zero emission as quickly as possible, serving as an example to other U.S. states. And we encourage the shipping industry to invest in renewable energy sources, including wind, solar, hydrogen, and ammonia to generate clean energy solutions for all ships, no matter their size.