Helping Achieve Landmark Protections for Nature at U.N. Biodiversity Summit COP15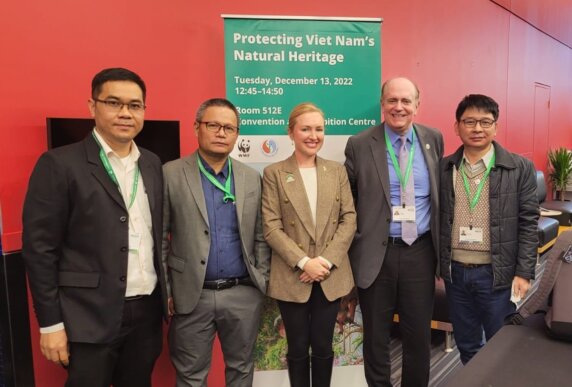 We traveled to the biodiversity summit in Canada to help ensure that the world commits to protecting 30% of our oceans by 2030.
And we have great news to share: after many long days and nights of negotiations, the global community reached a watershed conservation agreement to protect 30% of the planet's land and oceans by 2030 (known as "30 by 30").
This agreement is necessary to try and halt an ongoing extinction crisis that threatens the loss of hundreds of thousands of plants and animals, and endangers our food and water supplies.

It was quite a nailbiter. Until close to the very end, there was a real chance that nations would not agree to a 30 by 30 target for the oceans.
But ocean advocates like us worked tirelessly to make sure that this would not be the case.
Because the oceans need our protection — urgently.
Ocean health is essential for life on Earth. Oceans contain much of our planet's animal life and provide livelihoods, food, recreation and inspiration to billions of people.
But coral reefs are on the verge of collapse, sharks and other wildlife are struggling, fisheries are depleted.

With this new agreement in place, the world has committed to protecting 30% of the oceans; currently, only 8% is protected in any way, and only about half of that is truly protected from harmful activities like overfishing.
We are so proud of the part our team has played in achieving this win.
We and several Asian Pacific partners spent over a year talking to top policymakers in Vietnam, Thailand and the Philippines to convince them to support a 30 by 30 ocean target as part of this international effort to save global biodiversity.
As a result, these countries supported the 30 by 30 target at the biodiversity summit.
What's more, we helped persuade all three countries to commit to ambitious ocean protection goals in their own national waters.
This means that in the coming years these nations will be using Marine Protected Areas and similar mechanisms to strongly protect some of the most diverse marine ecosystems on earth.
We have achieved an important milestone to protect ocean life. But this is just the beginning of a long road ahead to turn words into action.
In 2023, we will be excited to assist Vietnam, Thailand and the Philippines in their efforts to protect ocean life.
One key thing we will focus on is that the new Marine Protected Areas and other protections meaningfully involve coastal communities and their local leaders to protect, manage and restore these areas.
Another important issue we will be working on is to ensure that these areas protect extraordinary and fragile ecosystems that are most critical to preserving the ocean's astonishing biodiversity. This will include protections for rare pillar corals in Thailand and some of the world's most diverse mangrove forests in Vietnam.
Help us ensure that these future marine protections safeguard ocean life and respect local communities. Make a meaningful year-end gift today.