Zhao Zhong, a TIME Hero of the Environment, Joins Our China Team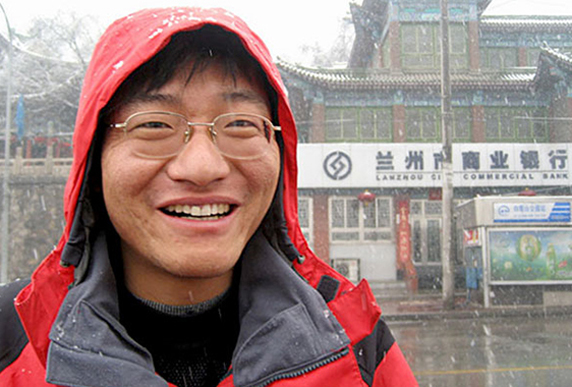 I'm so thrilled to welcome Zhao Zhong, a TIME Hero of the Environment, to our China team.
Zhao Zhong is an experienced and incredibly well-respected and successful grassroots leader. He founded Green Camel Bell, the first environmental organization in Gansu province in northwestern China, in 2003.
A nuclear engineer by trade, Zhao Zhong came to Lanzhou, Gansu's capital, as a college student and immediately became concerned about the city's pollution. Once a remote trading outpost located where the ancient Silk Road crossed the Yellow River, it is now northwest China's primary hub for oil refineries and petrochemical plants. It is also one of the world's most polluted cities.
In fact, air pollution is so bad that just breathing in Lanzhou's air is like smoking a pack of cigarettes a day. And more than 10 percent of the Yellow River near the capital is now sewage, and industrial spills further poison the river.

Under Zhao Zhong's leadership, Green Camel Bell, named for the bells used on traditional camel trains that once passed through the region, developed into one of China's most effective water pollution watchdogs. Together with dozens of local community volunteers, young and old, he successfully pressured factories that dump waste and toxins into the Yellow River to clean up their act by publicizing the polluters' environmental records.
In addition to monitoring the river itself, Green Camel Bell unearths public but often hard to find pollution information from newspaper articles, academic studies, and reports prepared by local environmental officials. Once collected, they send the information to a partner group in Beijing to be included in the China Water Pollution Map and the site's list of factories that violate national environmental standards—including many state-owned enterprises.

After making the decision to turn over the reins of Green Camel Bell last year, Zhao Zhong knew that he wanted to share his experiences and help other groups in China get off the ground. As part of our team, Zhao Zhong will deliver trainings to our partner organizations, mentor up and coming grassroots activists, and develop local and national campaigns that target water polluters.
We are so lucky to have him!