Protecting People from Pollution—and COVID-19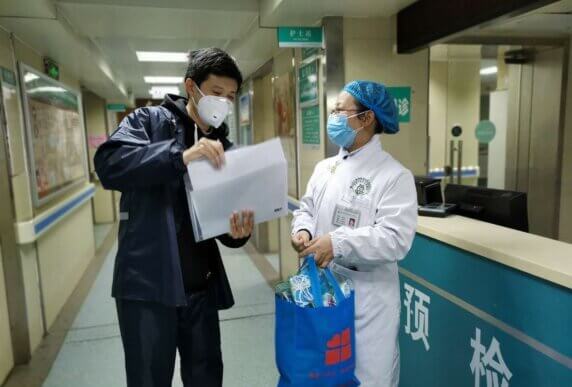 While it may seem unusual for an environmental group to provide medical relief, for Zhang Jun, temporarily pivoting his organization to COVID-19 relief made sense.
When the COVID-19 crisis hit China, he contacted the local government in Anhui Province (about 200 miles from the outbreak's early epicenter in Wuhan) to offer his team's help.
Having studied medicine, Zhang Jun was uniquely prepared for this challenge. In addition to protecting rivers from chemical pollution, for more than a decade he has been leading multiorganization responses to natural disasters like storms and floods across 16 cities in Anhui.
"There are many connections between environmental problems, natural disasters, and pandemics—and to be effective, environmental groups need to help people."
Let's keep building a strong global movement of grassroots leaders. Will you make a generous year-end gift today to support courageous local leaders like Zhang Jun?
His organization, Hefei Shanshui, fundraised to purchase medical supplies; distributed personal protective equipment and cleaning supplies; and established a COVID-19 hotline.
Zhang Jun's group also provided services to people with special needs, including the elderly and homebound, making sure they had access to their prescription drugs and to food amid the strict lockdown that prohibited people from leaving their homes.

Maybe there are only a few things that we can do, and the accomplishments that we can achieve on our own are small," says Zhang Jun. "But combined with others' efforts, we can make a big difference."

Zhang Jun
Today, Zhang Jun and his staff are back to protecting rivers and fighting plastic pollution. But in case COVID-19 should return with force, especially in the cold of winter, he and his staff are ready to do it all again.
"This virus is the enemy to the entire human race," says Zhang Jun. "We are all fighting this together."
With a generous year-end gift, you can help Zhang Jun and leaders like him protect their communities from harm. Join us in our fight and contribute today.
Thank you for all you do to support brave grassroots leaders!
Pacific Environment partners with Zhang Jun and his organization Hefei Shanshui to fight another urgent crisis: plastic pollution in China.