UN Shipping Agency Fails to Reduce Shipping Industry's Climate Emissions
Opportunity lost to push ships off fossil fuel propulsion and reduce black carbon's impact on the Arctic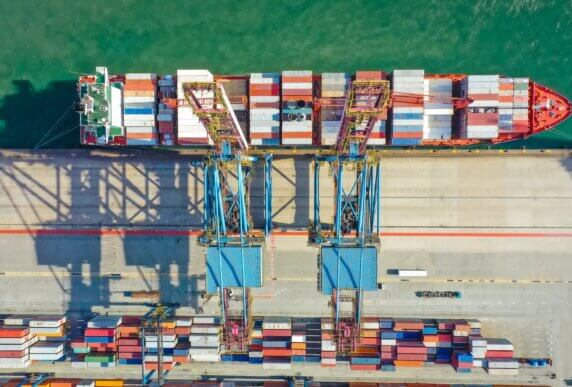 Failure to reduce the shipping industry's climate emissions marred the International Maritime Organization's (IMO's) recently concluded meeting involving representatives of more than 60 countries.
Pacific Environment and other civil society observers expressed dismay at the lack of agreement or even consideration of meaningful action to address the climate crisis by the U.N. shipping agency's Marine Environment Protection Committee (MEPC 76), which met virtually June 10-17.
The "urgent" short-term greenhouse gas energy efficiency measure that was adopted enshrines "business as usual" for the next five years, and it is utterly insufficient to bring ship emissions down in a manner consistent with the Paris Agreement's temperature goals. The new carbon intensity requirement merely reflects efficiency improvements taking place spontaneously in the absence of any additional regulation and will have no meaningful impact on pushing ships off fossil fuel propulsion.
Madeline Rose Pacific Environment's Climate Campaign Director, said on the shameful outcome: "Instead of seizing the opportunity to drive uptake of green technologies over the next decade and align shipping with the Paris Agreement, the IMO has once again let corporations, shipbuilding and ship registry nations, and petro-states control policy outcomes that affect the habitability of our planet."
Also disappointing was MEPC's failure to address a proposed resolution on black carbon, a potent short-lived climate forcer.
Organized by the Clean Arctic Alliance and sponsored by Pacific Environment, WWF, Greenpeace, and the Clean Shipping Coalition, the Black Carbon Resolution would have encouraged the shipping industry to voluntarily switch from heavy fuel oil (HFO) to distillate or cleaner fuels while operating in the Arctic, which is warming three times faster than the rest of the world.  The burning of dirty HFO that produces black carbon is accelerating the Arctic's ice melt. Consideration of this issue should be a priority for the IMO, but the black carbon issue has been under consideration for 11 years without action. Consideration of black carbon was ignored again at this meeting, bumped off the agenda and deferred to an MEPC session later this fall.
Melissa Johnson of the Bering Sea Elders Group, who spoke as part of the Pacific Environment observer delegation, said: "So far this week, none of the actions set forth by the IMO will provide any relief to the Arctic this decade, and without help this decade, the Arctic may be lost. The action that has potential to help the Arctic the most is an immediate reduction in black carbon emissions from shipping. Black carbon in the Arctic was to be discussed at this meeting, but now has been deferred to MEPC 77, more time lost, more damage done," Johnson said.
The climate impact of fuel switching from HFO to distillate or cleaner fuels could be significant. Black carbon was recognized in the IMO's 4th GHG study as contributing 16% to global ship CO2e on a 20-year basis, which is the most relevant metric when considering Paris 2050 goals. The study concluded that a switch to distillate would reduce black carbon emissions by up to 79% in 2-stroke engines and 48% in 4-stroke engines.
Also deferred was deliberation on measures to eliminate scrubber discharges of wastewater used to clean up ships' exhaust, impacting sensitive areas including the Arctic. Both black carbon and scrubbers have been deferred to MEPC 77, due to take place in November 2021.
A pending Arctic HFO ban was finalized without changes. The so-called "ban" will eliminate the use and carriage of HFO as fuel on ships operating in Arctic waters starting in July 2024, but it was weakened during the IMO process to add waivers and exemptions. Its application to vessels with double-hulls or protected fuel tanks is delayed until July 2029. And Arctic countries (with a coastline which borders on Arctic waters) may waive the ban for ships flying their flag while operating in their waters until July 2029.
Pacific Environment experts are available for interviews upon request.
About Pacific Environment: 
Pacific Environment is a global environmental organization that protects communities and wildlife of the Pacific Rim. We support community leaders to fight climate change, protect the oceans, build just societies, and move away from fossil fuels toward a green economy.