Over 46,000 people told polluter to keep dirty ships out of National Park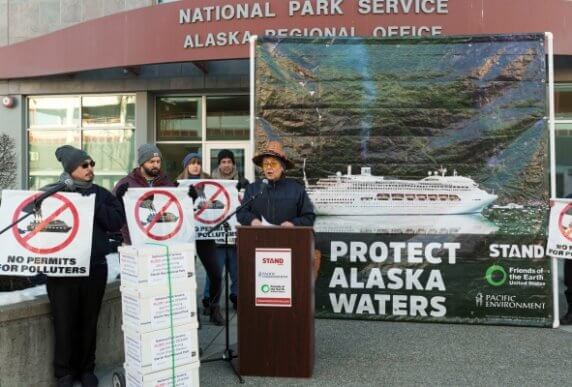 Over 46,000 people want Carnival Corporation's dirty cruise ships out of Alaska's Glacier Bay National Park. We made sure the National Park Service got that message.
Two years ago, a Carnival-owned Holland America cruise ship illegally dumped 22,000 gallons of wastewater in Glacier Bay National Park. At the time, they were fined $250—a fraction of the cost of a passenger ticket.
Carnival has a long history of polluting the environment; it even has multiple felony convictions. We say, Enough is enough.

In freezing temperatures, I stood outside the National Park Service's regional headquarters in Anchorage on Monday, February 10, with our allies to ask the National Park Service to "Keep Cruise Pollution out of Glacier Bay!"
After we delivered our message to the media—including Alaska's top news channel—we headed inside to deliver our demands (and tens of thousands of signatures) to the National Park Service's leadership.
Alaska Regional Director Don Striker appreciated our concerns, but he refused to commit to banning Carnival cruise ships from Glacier Bay. To stop Carnival, we'll have to take the fight to Congress, which has a greater power to kick the dirty cruise line out of our national park.
Cruise ships provide one of the best ways of experiencing Alaska's natural beauty, yet Carnival has proven repeatedly that it does not care about our oceans and marine wildlife. It's time Carnival faces the consequences of its illegal actions.
Check out more photos of our petition delivery below. And if you missed the Facebook live stream, you can check it out here.