Alaska Natives Lead Conversation Toward a Just Transition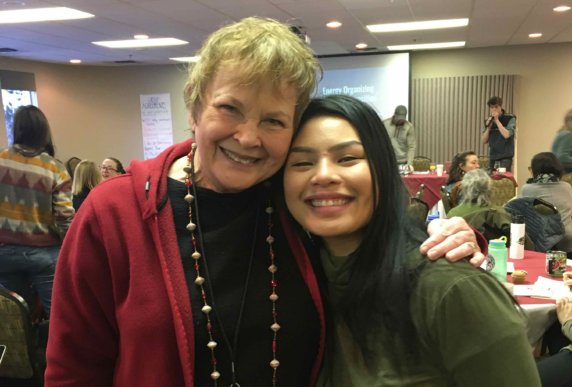 A recent Alaska Native-led statewide gathering in Fairbanks—Kohtr'elneyh Remembering Forward: A Strategic Framework for a Just Transition—explored a hopeful and provocative approach to transforming Alaska's oil-dependent extractive economy to one that is ecologically sustainable, equitable, and just.
The summit centered on learning from the traditional knowledge of Indigenous peoples—living in balance with the land, adapting to inevitable changes, and envisioning ways to achieve a better world. The meeting sought to unpack Alaska's history of colonization and oppression of Alaska Natives in order to create space for healing and lift up Native leadership and tribal self-governance.
The Just Transition movement started decades ago when national labor unions and environmental justice groups developed strategies to deal with the effects of industrialization and environmentally degrading development projects on communities of color.
The Just Transition framework conceives a complete remaking of the global economy to localize as much activity as possible, and to transform government structures and value systems so that they no longer prioritize exploitation and profit over the well-being of people and the planet. The summit sought to apply this framework to the situation Alaskans now face.
Speakers and participants explored ways to apply a Just Transition approach to transforming Alaska's economy. Keynote speaker Winona LaDuke highlighted hemp as an industrial crop with potential in the new economy. Spruce Root Inc., a community small business lender in Southeast Alaska, is making local investments in regenerative tourism, energy efficiency, entrepreneurial activity, and clean energy innovations.
The climate crisis was a constant topic, as Alaska Natives are on the front lines. Rural Alaskans, particularly, are experiencing huge impacts on Alaska's lands, waters, animals, fish, and communities. Cascading effects throughout the ecosystem include shrinking sea ice, a crumbling coastline, villages forced to relocate, bird and fish die-offs, melting permafrost, and sinking homes and infrastructure. While the global climate is warming faster than predicted, the Arctic is warming more than twice as fast as the rest of the world.

One of the Summit presenters, the Fairbanks Climate Action Coalition's Keep It in the Ground Working Group, has launched a campaign to end all state oil subsidies. Ending oil subsidies would help solve Alaska's budget deficit. Gov. Dunleavy last year made massive cuts to public safety, Medicaid, the University system, the ferry system, and other vital state services, while continuing to pay out more than a billion a year to oil companies in "per-barrel tax credit" exploration and development subsidies. The state still owes more than $800 million in past-due credit payments to the entitled companies.

Pacific Environment is a participant at the International Maritime Organization, a United Nations Agency that regulates the oceans. While less accessible and less understood, what happens in the oceans is impacting the ecosystem and climate crisis. Oceans are the home of salmon that for centuries have returned to Alaska's rivers and streams to spawn. Salmon are more to Alaskans than a source of food, more than an economic resource. Salmon are the foundation of traditional and regenerative Alaskan economies and cultures. Salmon face new and increasing risks due to warming waters, ocean acidification, ecosystem shifts affecting the food chain, overfishing, and complex governance systems.
Pacific Environment helps lift up Indigenous voices so that they are included in the international decision-making about ocean policy. Pacific Environment is working to ban use of heavy fuel oil in the Arctic, curb plastics flowing into the ocean, and achieve zero-emission shipping and clean cruising practices.
I'm honored to have witnessed the summit's outpouring of hopeful energy, inspiration, foresight, unity, and strength.
My favorite quote from the summit, passed down by a Native elder who said he received this ancestral wisdom in a sweathouse: "With hope, everything is possible."
We have reason to be hopeful, but no time to be complacent.
The Just Transition Summit was sponsored by Native Peoples Action, Native Movement, Gwich'in Nation, Fairbanks Climate Action Coalition, The Alaska Center, AKPIRG, and Alaska Community Action on Toxics.