"No Delays or Softening of Climate Action at California Ports," Pacific Environment Tells State Authorities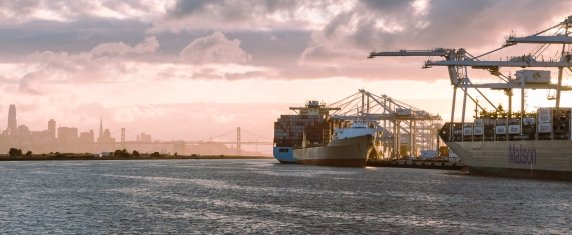 Pacific Environment and Environmental Defense Fund today urge the State of California to move forward overdue climate mitigation and public health measures in California ports. Specifically, we call on the California Environmental Protection Agency and the California Air Resources Board to reject several proposals we've become aware of asking for delays or roll backs in regulation that reduces greenhouse gas emissions from ships at California's ports. The full letter is below.
Dear Secretary Blumenfeld and Chair Nichols:
We are writing in response to the numerous requests being made by industry and government associations to relax and/or delay overdue climate change mitigation and public health efforts in the Ports of California, including the At-Berth Regulations. We disagree with these requests and urge that you move forward on schedule in amending At-Berth Regulations, alongside other critical initiatives.
We appreciate that California ports and their essential supply chain workers and the shipping industry are on the frontlines of the unprecedented global coronavirus crisis response. We are grateful to all California ports and port workers for their work to ensure goods and medical assistance flow globally and into the United States at this time. Our organizations are doing what we can to flatten the curve and support frontline workers.
However, At-Berth is first and foremost a public health measure to curb dangerous air pollution levels in the state of California. According to a new nation-wide study by the Harvard University T.H. Chan School of Public Health, exposure to air pollution renders individuals more likely to die from coronavirus. In addition, the State of California is currently not on track to achieve its Greenhouse Gas Reduction (GHG) reduction goals for 2030. Moreover, the current amendments under debate for At-Berth have been under consideration since before the coronavirus crisis began. The amendments were meant to be voted into effect December 2019. Industry associations then succeeded in requests for delay – moving the vote from December 2019 to March 2020, which now due to the coronavirus, has become May 2020 and may become June 2020. Exploiting the coronavirus crisis to delay rule changes that industry simply does not want is not reasonable, it is abuse.
The At-Berth Regulations are working to clean the air, protect public health, save lives, stave off climate change – and help California maritime meet the crisis of climate changes and stay in line with global best practice. Accelerated action, not delays, are now needed. We urge you to ensure At-Berth regulations are neither delayed nor softened, and we appreciate your continued leadership in these complex times.
Sincerely,
Madeline Rose
Climate Campaign Director
Pacific Environment
Fern Uennatornwaranggoon
Air Quality Policy Manager
Environmental Defense Fund