"Monsieur, there's coal in my popcorn!"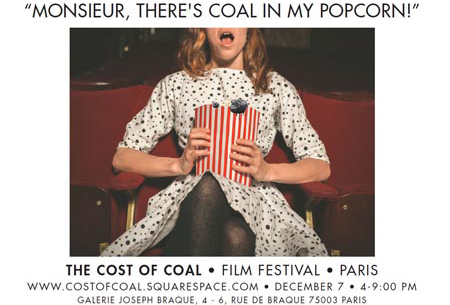 Today is the first day of the U.N. climate change conference. Thousands of people are coming to Paris to be heard. The metro is free today, streets are crowded.
With 180 countries participating in the negotiations, everyone seems hopeful that this climate summit will be the one where an agreement on a global reduction of carbon dioxide emissions will be reached.
As world leaders are trying to craft an agreement that will begin to curve the trajectory of global greenhouse gases back to a level that will save the planet from devastating consequences, Pacific Environment is amplifying peoples' voices.
On December 7, we are hosting "The Cost of Coal," an international film festival that examines the harmful effects of the coal industry on human health—and gives local communities an opportunity to tell THEIR stories at the Paris climate conference.
While government representatives are negotiating a new climate deal, we want to bring attention to those who are directly, and daily, affected by the causes and consequences of climate change.
One film tells the story of a South African community in the Mpumalanga Highveld region, which is home to 12 (!) of the world's largest power stations. Almost all the people featured in the film have health issues, many suffer from asthma. Yet they keep burning coal in their homes because it's their only source of energy.
Another film tells the story of indigenous peoples in Russia who lost their land to the coal industry to mine the worst of all climate-changing fossil fuels.
The Philippines, among the countries most vulnerable to climate change, is home to numerous coal-fired power plants that sicken communities. As the festival entry shows, the negative health effects of coal aren't stopping people from saying "No" to the coal industry and demanding a full switch to renewable energy.
Yesterday, hundreds of thousands of people around the world took to the streets to call on world leaders to scale up action to achieve 100% renewable energy and protect people from worsening climate change impacts.
Solidarity and unity are some of the big themes of this summit—and of our film festival, which brings together participants from five continents and many different countries, including China, Russia, Australia, South Africa, Colombia, Turkey, and the Philippines.
Most of us have never met in person. But we are coming together because we all share one goal—to stop harmful coal production and prevent a climate catastrophe.