Kicking the Coal Habit Moves to the Mainstream in China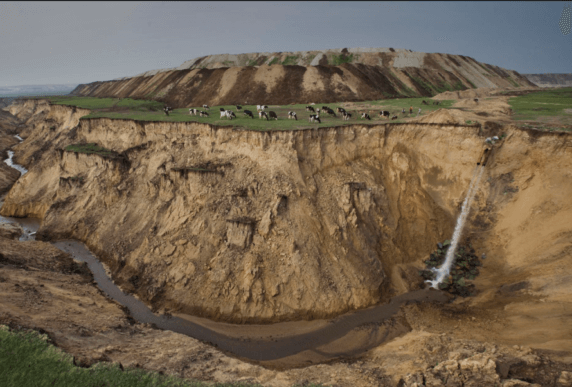 What is one sure-fire way to reduce devastating pollution in China, decrease carbon emissions and stabilize the economy? Cool down the country's overheated coal industry. And in fact, that's exactly what energy and development regulators are trying to do. Let's review some recent signs that China is moving away from coal:
Sign #1: China is reducing the number of new coal mines:
In September, 2015, the National Development and Reform Commission banned coal mines in eastern regions and issued stricter approval requirements for other regions;
In December, 2015, the ban on coal mines was extended to a three-year moratorium on any new mines;
Most recently, in February, 2016, the State Council announced that China will eliminate 500 million tons of coal mining capacity within 3-5 years.
This is welcome news because for too long China's coal industry has been too big for its britches. By the end of 2015, total coal mining capacity had already reached 5.7 billion tons – much more than the 3.75 billion tons actually mined in 2015 and well above the 3.65 billion tons targeted for 2016. The recent bans are a positive sign that the government of China is serious about trying to keep more coal in the ground.
Sign #2: China is reducing the number of new coal power plants:
In September, 2013: new coal power plants (except combined heat and power plants) were banned in Beijing, Shanghai, Guangzhou and other eastern regions;
In March 2016, the Chinese news magazine Southern Energy Observer reported coal plant construction will be halted in 13 out of China's 23 provinces.
This is also critical news because China has not just too many mines but also too many coal power plants. Currently, there are some 300,000 MW worth of projects approved or under construction (for comparison, that's almost the size of the total existing US coal power capacity). But the National Energy Administration says only 2/3 of that planned capacity will actually be needed to meet China's power needs in the coming five years. The recent regulations on coal power plants will hopefully ensure hundreds of unneeded plants are not built.
Sign #3: China is reducing coal consumption:
In June 2014, the State Council announced that the country's annual coal consumption would be limited to 4.2 billion tons per year by 2020, and that coal would make up just 62% of the total energy mix (it's now at 64%). Earlier predictions were that consumption would rise to 4.8 billion tons by 2020.
By February 2015, official data showed coal consumption had declined by 2.9% in 2014, the first decline in almost 14 years;
In January 2016, official data showed China's coal consumption had again declined, this time by 3.7% from 2015.
Some of this decline is tied with the country's economic slow-down, but it's not just about the economy. Dirty energy is always a losing investment when you consider the price the Chinese people are paying. A recent Tsinghua University study found that outdoor air pollution from coal alone caused an estimated 366,000 deaths in China in 2013. Another recent study warned air pollution is killing about 4,400 people in China every single day.
Further, according to a recent Greenpeace study, 45% of Chinese operational coal power plants are located in water "over-withdrawn" regions – meaning they are contributing to China's serious water shortages. And little reported outside of China, massive coal operations have displaced millions of people. In just two coal regions, Lianghuai in Anhui and Luxi in Shandong, 2.73 million residents had to be relocated. This is over twice as many people as were displaced by the Three Gorges Dam. In Shanxi province, 2.3 million people have been seriously harmed – such as having their homes destroyed or water supplies cut – from land sinks caused by coal mining.
As a result of this coal catastrophe change is coming fast in China, yet the government's plans to keep the coal industry at a manageable size will only have staying power if un-needed, un-permitted, outdated coal facilities are permanently closed, and cleaner energy options are supported. Even more resources are needed for renewable energy, as well as enforcement to ensure localities stick to the "coal diet" the country's leaders have proposed. And of course, the US and other big emissions countries need to complement China's efforts by cleaning up our own houses as well.
One thing is for certain: kicking the coal habit has moved squarely into China's mainstream. Even Liu Zhenya, the head of China's State Grid, the largest power company in the world, recently spoke out in favor of moving away from coal. "It's better to move on to the next generation of energy technologies," he argued. "And China believes it might as well start now."