Chinese Environmental Group Uses Hazmat Suits to Protect a River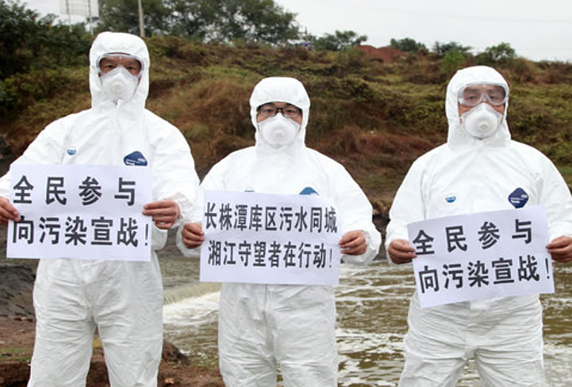 When plans moved forward to build another dam across the heavily polluted Xiang River, members of Green Hunan's volunteer network dressed up in white hazmat suits to alert the public to a major threat: The section of the river that would fill the reservoir had been used for decades as the city of Changsha's sewage dump.
Once the dam was built, the wastewater would collect in the reservoir and pollute the city's drinking water and damage already stressed river life.
Green Hunan's bold publicity gained traction. Several big news outlets started following the story, even calling for swift clean up.
As a result, the local government finally began updating its sewage and wastewater systems, starting with renovations of three big pump stations that were releasing untreated wastewater into the river.

With only 18 days left until the deadline for the upgrades, Green Hunan's volunteers were on site every day to monitor progress. In the end, the facilities completed the required renovations on time—marking a big win for Green Hunan, the Xiang River, and the citizens of Changsha.
In 2016, we will continue to work with grassroots groups like Green Hunan in Changsha to clean up rivers and pressure polluters to improve their environmental record or shut down.