Decisions in London, Impacts in the Arctic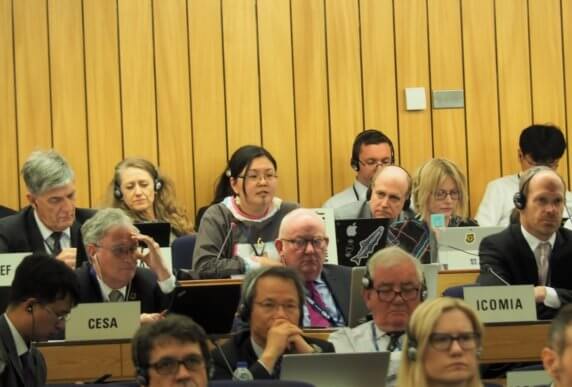 Earlier this year, Mellisa Maktuayaq Johnson told a room full of international shipping experts in London that "the sea and the land are our store."
Most people in the audience are used to shopping at supermarkets like Safeway or Costco, so it took a moment before they grasped the implications of what they were hearing.
It is vital to Mellisa and the Bering Sea Elders Group she represents to make sure that the people who write the rules for Arctic waters understand that the increase in ship traffic threatens Indigenous food supplies and traditional ways of life, which depend on a healthy marine environment.
Mellisa grew up in Nome, Alaska, on the icy shores of the Bering Sea. Mellisa's maternal grandparents taught her how to catch the scent in the air that meant it was time to gather the next berry; or how to watch for certain birds that signaled the moment to move to the next camp.
As the Executive Director of the Bering Sea Elders Group, Mellisa is now advocating for Indigenous communities who live along the Bering Sea coast.
With the climate crisis on their doorstep—Alaska and the Arctic are warming twice as fast as the rest of the planet—this knowledge is more important than ever. "We're in a world right now that's going to continue to change and our reliance on traditional Indigenous knowledge is increasing," Mellisa says.

At the London meeting of shipping experts, Mellisa highlighted the dangers of longer summers with less sea ice that are bringing more ships into the Arctic.
Ship noise can disorient marine mammals and drive them away. Oil spills and chemical leaks damage marine habitat and kill wildlife. Black carbon escapes into the air when ships use dirty heavy fuel oil, covering sea ice and worsening climate change.
Bringing awareness of these issues to the U.N.'s International Maritime Organization (IMO), which has the power to set laws that protect fragile ocean life, is vital for the Elders, the communities they serve, and Indigenous people in general.
"The waters that we protect and advocate for on behalf of our people are going to continue to be in the spotlight on the international level. With the work that we do, we need to continue to be involved and share our perspectives in a meaningful and strategic way."
For the past four years, Pacific Environment has been sponsoring Indigenous leaders to travel to IMO meetings in London to advocate for strong protections for their coastal communities.