Climate Justice for Coastal Communities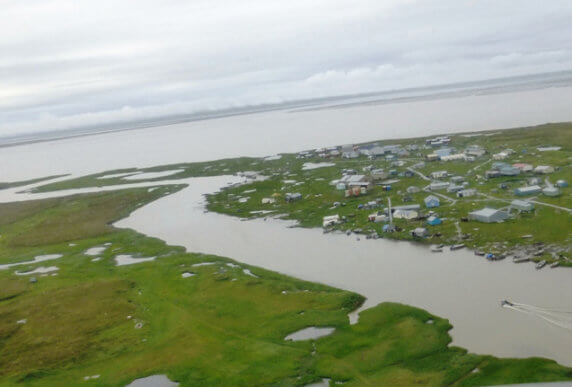 As sea level rises, low-lying coastal communities around the world are facing the prospect of relocation.
Some of these communities are on remote islands that many have never heard of. Others may be familiar to Americans from the west coast of Alaska and Washington State, and from the bayous of Louisiana.
Many of these communities are home to families that have been there for hundreds or even thousands of years…families that cannot imagine living elsewhere. Many of these communities are not what we would consider "developed" and have contributed little to greenhouse gas emissions.
What does this have to do with Paris?
A few people from these communities have managed to come to Paris to be heard. They call for climate justice, meaning that those who have the most responsibility for greenhouse gas emissions and sea level rise help vulnerable communities adapt to climate change and move forward with low carbon development.
Climate justice also means that vulnerable communities have a voice in decision-making regarding climate change adaptation and mitigation. Migration and adaptation have only just begun to draw international attention, as we realize that adaptive efforts will be needed even if we suddenly stop all greenhouse gas emissions.
Earlier this week I heard a presentation on "Climate Change and Migration" from European social science researchers looking at the causes of migration, the role of inequality, and what kind of policies we need to manage human mobility and climate change.

The conversation continued yesterday, December 5, with "Climate Induced Migrants: Question on Rights and Responsibilities" and "Human Mobility and Climate Change," presented by United Nations officials, on December 10. Of course, only high-level representatives from accredited entities will be able to attend these events, but getting recognition of these issues from a "top-down" perspective is important.
Because right now there just isn't much in the way of "top-down" policy and assistance for people faced with the prospect of climate change relocation.
There is no climate change adaptation agency or law in my state of Alaska, much less my country of the United States. Alaska's indigenous shoreline communities watch their traditional lands erode into the water while politicians deny that humans have any sort of role in climate change.
Perhaps the seeds of change will come from the bottom-up. In Alaska, communities are cooperating with universities to figure out how they can be more resilient, and how they can learn from each other. The Alaska Native Village of Newtok formed its own collaborative partnership with dozens of state and federal agencies to plan its own relocation. Tribes and municipalities are coming up with climate change adaptation plans.
This bottom-up movement is even taking shape at the international level. Countries came to Paris with their own voluntary commitments to cut emissions. Will they be enough to stop the rising tide and avoid the relocation of vulnerable communities?
Probably not, which is why we cannot lose sight of climate justice. Let's all mitigate climate change, but let's also help make sure everyone has a home.