World's climate summit wraps — here's what's next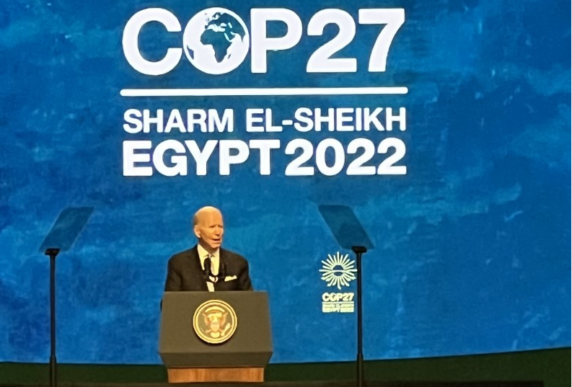 It's been a ground-breaking two weeks at COP27. Importantly, we're celebrating the historic decision on loss and damage reparations.

After two decades of advocacy, world governments finally agreed to establish a global "loss and damage" fund to help developing and climate-vulnerable countries and communities pay for the costs of managing climate-fueled weather extremes or impacts. We are proud to be members of the global Climate Action Network coalition, which helped organize and lead civil society negotiations on loss and damage this year — and give huge kudos to frontline leaders from all corners of the world who fought for this fund nearly 24 hours a day for the last two weeks.

And thanks to your support, we've been on the ground speaking on panels, meeting with decision-makers, and working with leading shipping experts as shipping decarbonization took a foothold on the world's biggest stage for climate action.




Thank you to Julie Cerqueira, Principal Deputy Assistant Secretary for International Affairs at the U.S. Department of Energy, above, for providing the keynote speech at our Saturday COP event!

At the World Leaders' Summit on Nov. 7, Norwegian Prime Minister Jonas Gahr Støre and U.S. Special Presidential Envoy for Climate John Kerry chaired the launch of the Green Shipping Challenge.
This U.S. & Norway joint initiative encourages governments, ports and private sector companies to prepare commitments to spur the transition to green shipping.

Countries, ports, and companies made more than 40 major announcements addressing innovations for ships, expansion in low- or zero-emission fuels, and policies to help promote the uptake of next-generation vessels. Secretary John Kerry summarized the historic significance of these commitments, highlighting that "In Paris, no one talked about shipping." 

A few days later, President Biden reinforced the imperative to tackle emissions from the shipping sector during his presidential remarks at COP. He called on leaders to step up and accelerate action to "permanently bend the emissions curve … That's the duty and responsibility of global leadership."

Pacific Environment is already pushing governments to allocate funding for port infrastructure that will accelerate the transition to zero-emission shipping and create new, high-paying careers for port workers. Through our advocacy efforts in D.C., we helped secure more than $3 billion in grants for ports in the Inflation Reduction Act.

Now, we turn to implementation — converting this funding into zero-emission infrastructure projects. To jumpstart this work, Pacific Environment's Ports for People campaign is launching a new initiative to evaluate port progress on shipping decarbonization. Our RePORT Cards assess ports against our Ports Playbook for Zero-Emission Shipping and call on ports to jumpstart, accelerate or move full speed ahead on their efforts to decarbonize. As part of this initiative, we're excited to share our P4P Port Map, too!





With these new resources calling on ports to act, we will continue to advocate for cleaner ports, green shipping corridors, and zero-emission shipping by 2040.

Watch portsforpeople.org for more updates on our zero-emission future!