Shell Abandons Plan for Drilling in Arctic Seas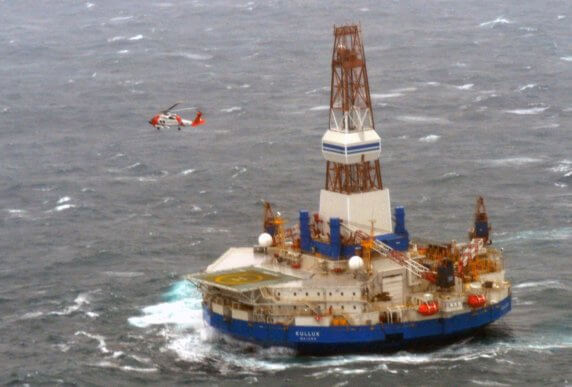 Yesterday, the CEO of Shell Oil announced sharply lower earnings and canceled plans to try to drill in Arctic seas off the coast of Alaska.  While couched in terms of a temporary decision applying only to this summer's drilling season, the actual press announcement by the company had the feel of a more dramatic change of course:
"The recent [federal appeals court] decision against the Department of the Interior raises substantial obstacles to Shell's plans for drilling in offshore Alaska. As a result, Shell has decided to stop its exploration programme for Alaska in 2014. 'This is a disappointing outcome, but the lack of a clear path forward means that I am not prepared to commit further resources for drilling in Alaska in 2014,' van Beurden said. 'We will look to relevant agencies and the Court to resolve their open legal issues as quickly as possible.'"
Pacific Environment was one of the first to start this fight, back in the mid-2000s, challenging oil and gas leases the Bush administration was selling to Shell and other oil companies. Our early concerns centered around the fears and concerns of Native Alaskan leaders how oil drilling might harm their traditions and food security.
The fight has snowballed as major environmental allies have joined, pulling out the stops to alert U.S. citizens of what could be lost if oil companies try to use current technologies in extreme Arctic conditions. When BP was unable to cap the Deepwater Horizon spill disaster in Gulf Coast waters, it demonstrated the much graver risk of trying to cap a spill in frigid, dark Arctic waters.
A huge part of the victory has been strategic use of the courts, challenging a complicit government's failure to hold Shell accountable for oil spill preparation in Arctic conditions and to honestly account for the true risk to the Arctic's polar bears, whales, walruses, and other iconic wildlife. A special shout-out is warranted to Earthjustice, NRDC, and pro bono lawyers who led that part of the charge so winningly.
If this sounds like a valedictory, it is not quite.  The ground now turns to President Obama's administration to back up the strong, welcome rhetoric about addressing climate change with meaningful action against opening up our Arctic to oil multinationals—and meaningful action against an "all of the above" energy policy. In a world of changing climate, we'll need a "no-carbon energy policy," and "all of the above" isn't the path to get there.