Public Participation and Public Protest in China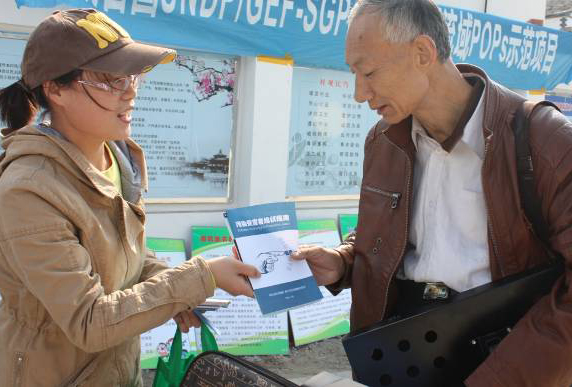 China's Ministry of Environmental Protection recently reported that there was a 31% rise in mass environmental protests during 2013. The statistic highlights the growth of "NIMBY" (not in my backyard) environmentalism in China, and it comes as no surprise given already excessive pollution levels faced by communities across the country. To many, the prospect of a new chemical factory or coal plant next door feels like the straw that broke the camel's back.
Despite the fact that mass protests are illegal in China, they do sometimes succeed in stopping a new polluting factory, at least temporarily. The trend toward increased protests may also indicate broader frustration with the lack of meaningful public involvement in China's environmental decision making. In a recent commentary on chinadialogue.net, Vice Environment Minister Li Ganjie is quoted as saying that protests are on the upswing because "the planning process in some areas and some departments may not be as scientific and rational as it should be" and projects "don't share enough information with the public."
Although the concept of public participation has been introduced over the past decade in China's environmental regulatory framework, very few practical steps have been taken to engage citizens in reviewing new projects and their impacts, or in supervising implementation of pollution reduction goals. One challenge is that the Ministry of Environmental Protection itself has little experience in effectively working with the public, such as through public hearings and written comment processes. The May 2014 revisions of the country's environmental law takes steps in the right direction by calling for public release of full Environmental Impact Assessments rather than just summaries, as well as mandating public disclosure of real time monitoring data from key polluting industries.
But more needs to be done, particularly when it comes to actually engaging the public in planning efforts. Currently, procedures for public review and comment on environmental impact assessments are so vague that it is easy for local officials to manipulate or side-step the public involvement requirement. Our partner, Green Stone Environmental Action Network, pointed out the many flaws of the process in a 2013 report on compliance with public participation requirements for environmental impact assessments for Jiangsu Province, a relatively advanced region when it comes to the implementation of environmental laws.

Reports such as these indicate there is much more that the Ministry of Environmental Protection and local environmental bureaus can do. At the same time, citizen groups themselves are playing a vital role in helping to create models for public participation. For example, around the time of release of the Ministry of Environmental Protection's report citing the rise in environmental protests, Beijing's Institute for Public and Environmental Affairs (IPE) held a press conference announcing a new tool for public monitoring of polluters. IPE's mobile phone pollution map uses newly-available real time monitoring data released by the Ministry of Environmental Protection and allows users to see daily pollution discharge data for major factories nearby. Armed with this data, it will be much easier for concerned citizens in China to track down specific polluters and put pressure on local governments to clean up pollution.
In addition, IPE and many local environmental groups in China cooperate in creating an annual Pollution Information Transparency Index, which ranks Chinese cities based on how well they are complying with public environmental disclosure rules. The rankings have successfully put pressure on local governments to improve their performance.
These types of citizen-led efforts have been so effective that they warrant the attention of the Ministry of Environmental Protection and China's top leaders in their efforts to solve China's critical pollution problems and address citizens' concerns. Broader and more meaningful public participation in environmental affairs in China is a win-win proposition: it provides less risky and more long-term avenues for public expressions of dissatisfaction than mass protests, and it can result in direct and immediate improvements in China's air and water quality.