Lawsuit Launched Against Multi-Billion-Dollar U.S. Subsidy of Fossil Fuel Projects in Australia's Great Barrier Reef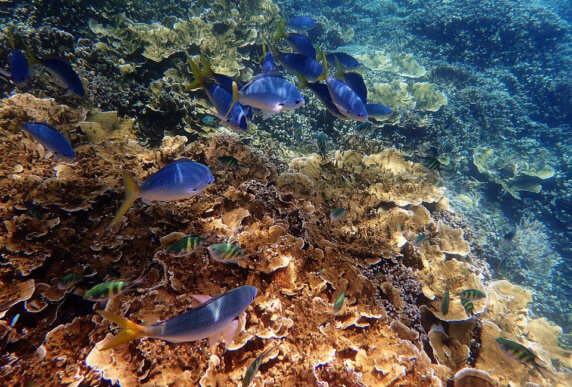 Facilities Would Threaten Sea Turtles, Other Endangered Species
SAN FRANCISCO, CA – Three conservation groups initiated a legal challenge today to the U.S. Export-Import Bank's nearly $3 billion in financing for two massive fossil-fuel facilities in Australia's Great Barrier Reef. Construction and operation of the liquefied natural gas (LNG) facilities will threaten dugongs, sea turtles, saltwater crocodiles and numerous other protected marine species within the Great Barrier Reef World Heritage Area.
"The U.S. really shouldn't be subsidizing new fossil fuel projects anywhere on the planet, but for the Obama administration to fund a project that will despoil a fantastic World Heritage Area like the Great Barrier Reef is unforgivable," said Sarah Uhlemann, an attorney at the Center for Biological Diversity. "Dirty fossil fuel projects don't belong in this world-famous marine sanctuary."
The Export-Import Bank, a federal agency that funds international projects to promote U.S. exports, is currently approving financing — including direct loans — for the two LNG projects in Queensland, northeast Australia. The Australia Pacific LNG and Queensland Curtis LNG projects will involve drilling up to 16,000 gas wells in the Surat Basin, west of Brisbane, using controversial "fracking" techniques, construction of hundreds of miles of gas pipelines and two massive LNG processing and export facilities. The Bank is also reportedly considering financing a coal-export facility in the Great Barrier Reef as well.
"The Export-Import Bank has a sad history of funding environmental destruction around the world," said Doug Norlen, policy director of Pacific Environment. "Ex-Im Bank should focus on renewable energy rather than projects that further the world's addiction to fossil fuels." The LNG processing and export plants will be located within the boundaries of the Great Barrier Reef World Heritage Area.
The Great Barrier Reef gained World Heritage status for its remarkable natural beauty, coral reefs and rare dugong and sea turtle habitat. UNESCO, the international body charged with overseeing implementation of the World Heritage Convention, issued a report in June expressing "extreme concern" over the LNG projects' impacts to the reef, noting that the reef may soon be listed as "in Danger," a designation made when activities of the host country or outside entities threaten a World Heritage Area. The LNG projects will also affect several species protected by the U.S. Endangered Species Act, including endangered dugongs and threatened green and loggerhead sea turtles. "Sea turtles and dugongs are already imperiled due to the fossil fuel frenzy now underway across Australia," said Teri Shore, program director of Turtle Island Restoration Network. "To allow oil companies to industrialize this critical nesting and feeding haven in the Great Barrier Reef will push these vulnerable marine animals ever closer to the brink." The formal notice of intent to challenge Export-Import Bank's funding of the LNG projects asserts violations of the U.S. Endangered Species Act, National Environmental Policy Act and the National Historic Preservation Act, which implements U.S. obligations under the World Heritage Convention. The formal notice is a legal prerequisite before a case can be brought under the Endangered Species Act.
---
About Pacific Enviornment: Pacific Environment protects the living environment of the Pacific Rim. Since 1987, we have partnered with local and indigenous communities in Russia, China, and the Alaskan Arctic to advance environmental and social justice. We mentor, train, campaign, build networks, and provide direct financial support to activist leaders and non-governmental organizations to help protect communities and wildlife from environmental threats and hold international governments, corporations, and financing institutions accountable for their policies and actions.
Contact:
Sarah Uhlemann, Center for Biological Diversity, (206)327-2344
Doug Norlen, Pacific Environment, (415) 399-8850 x305
Teri Shore, Turtle Island Restoration Network, (707) 934-7081