I Stood With Standing Rock Today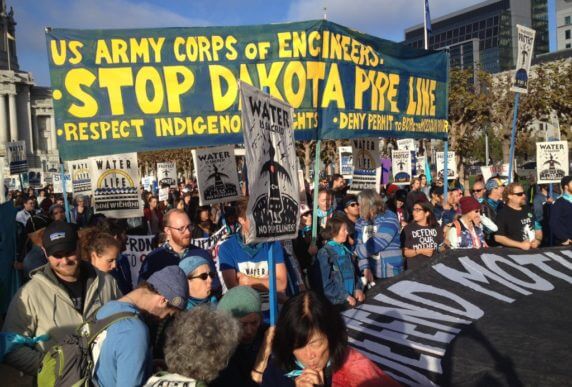 I woke up at 3:30 am today to start my trip into San Francisco to for an action to support the communities defending the Missouri River at Standing Rock, where the Dakota Access Pipeline threatens water and sacred land.
I was thrilled to be part of this indigenous-led action by Idle No More Bay Area, which started at sunrise on Civic Center plaza, with prayers and calling in of the four directions. Participants formed a sea of blue – our clothing reflecting the theme of the water protectors.
As we marched to the US Army Corps of Engineers office on Market Street – with a line of indigenous women in the lead – we carried handmade signs and banners, chanted, and burned sage, copal and sweet grass (most of the handmade signs are being sent for use at Standing Rock after today's rally).
When we arrived at the Army Corps' office, we unfurled a parachute in the middle of Market Street, and rows of people sat around it. Indigenous women led a traditional round dance around the parachute sit-in, while indigenous men drummed and sang. I learned a round dance is a traditional way to occupy space. Others blocked the doors of the Army Corps building.
Pennie Opal Plant and other action spokespeople were called up to an Army Corps of Engineers' General's office, who asked Pennie to first lead the small group assembled there in a prayer. The meeting ended with hugs and promises that their office would do all they could to push on their counterparts to protect the Missouri River.
San Francisco police announced they would not be arresting protesters but held a safe space as thousands of people occupied Market Street for three hours, standing in solidarity with the water protectors at Standing Rock. We sent a strong message to the USACOE we got great media coverage, and I heard 80 other events took place today across the country.
And miraculously, earlier today, the USACOE already announced that they are re-opening talks with the tribes, and will consider denying the necessary permit to cross the Missouri altogether. I think if we keep up the pressure on Obama, we can win this one…in the face of a climate change denying regime ahead of us, I believe it's critical we try.