This Chinese "Environmental Grandma" Fights Rampant River Pollution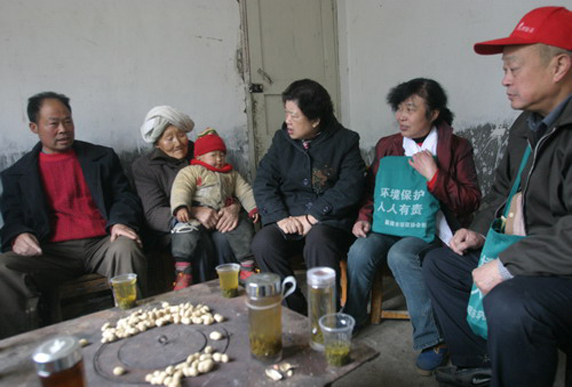 Last year, I accompanied Yun Jianli on a surprise visit to a wastewater treatment plant in her hometown Xiangyang in Hubei Province.
We were investigating river pollution and asked the plant's environmental manager to show us the equipment.
It was noon, we were standing out in the burning sun, and I was feeling too hot to talk. Not Yun Jianli. At 72, this former biology teacher persuaded the manager to show us around and tell us what he was doing to keep pollutants out of the river.
The man responded with respect and honesty to Yun Jianli's passion and willingness to listen and collaborate on solutions. At the end of our visit, he agreed to put up signs that make it easier for river watchers like Yun Jianli to discover pollution problems.
Her iron will and infectious passion have earned Yun Jianli an affectionate nickname: "environmental grandma" (环保奶奶). When I asked her what sparked her passionate fight against China's rampant river pollution, Yun Jianli told me that 17 years ago she visited a childhood river she used to swim in. It had turned black and was so stinky she had to hold her nose. At that moment she decided, "I need to do something, even if I can save only one river."

Today this "environmental grandma" leads Green Hanjiang—the first environmental organization in her province. Believing that "everyone has a responsibility to protect the environment," Yun Jianli has recruited 30,000 volunteers to patrol the Han River and its tributaries.
As a result, the water quality in her city and surrounding villages has been improving. Her patrols helped shut down or clean up over 100 industrial plants and animal farms. As a result, rivers too toxic for human contact before Yun Jianli and her volunteer river watchers became involved are now safe again for people.
But Yun Jianli won't rest until she has restored the Han River and all its tributaries to the way they were when she was a child: safe enough for people to drink, fish, and swim.
Your year-end gift to Pacific Environment helps me and my colleagues train grassroots leaders like Yun Jianli to conduct pollution investigations and build large volunteer networks that are successfully cleaning up China's polluted rivers. Please give as generously as you can this year.