Campaign Update: Building Citizen Strength for Zero Plastic Waste in Vietnam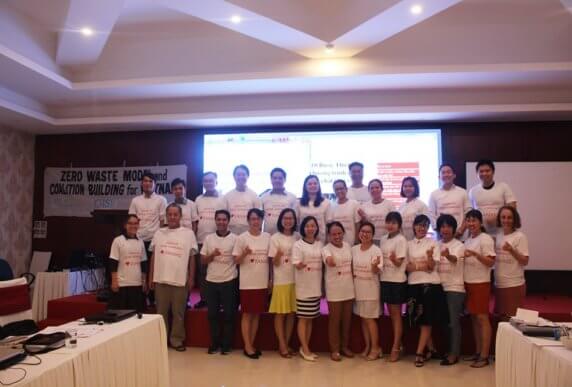 Seeds planted over the past decade by communities in Vietnam have now borne fruit: the nation's leadership has announced the intent to do something about the country's plastic trash problem.
On June 9, Vietnam's Prime Minister Nguyễn Xuân Phúc launched a campaign to fight plastic pollution, pledging to ban single-use plastic nationwide by 2025. With Phúc's pronouncement, Vietnam places itself alongside the European Union, India, and Canada in declaring a vision for a world without plastic pollution.
To realize this commitment, Vietnam's environment ministry has been developing a national plan on plastic waste, which we expect Prime Minister Phúc to approve in the coming months. With these wheels now in motion, Vietnam's civil society will seek to encourage strong lawmaking that will force the plastics industry to make fundamental changes.
Pacific Environment is helping by supporting a group of grassroots nonprofits, local leaders, and small businesses advancing solutions to the plastic pollution problem. These leaders have formed the "Vietnam Zero Waste Alliance," and they convened in late May in Da Nang where they discussed, among other things, how to advance strong, zero waste solutions and to take advantage of the heightened government interest in the problem.

Grassroots leaders began planting the seeds for local zero waste solutions over 10 years ago. Overflowing waste in Hoi An City and the neighboring Cham Islands Marine Protected Area (MPA) hindered city efforts to become Vietnam's eco-tourism destination. Chu Manh Trinh, an MPA expert and early Alliance member, worked with the city to implement waste segregation at every household, build a municipal composting facility, and ban plastic bags on Cham Islands.
Today, these Vietnam anti-plastic leaders face a tough battle to cut their voices through the crowd—the $15 billion-a-year domestic plastics industry is one of Vietnam's most profitable. Companies like Coca Cola and Unilever are protecting their profits by initiating small-scale, often ineffective recycling programs, while resisting calls to reduce their enormous production of single use plastics.
Pacific Environment and coalition partners are currently focused on the Cham Islands and four other coastal sites where community engagement in conservation is strong. We are demonstrating the value of zero waste solutions like plastic bag bans and community-operated waste segregation and composting facilities. We are also seeking to build broad consensus around zero waste ideas, like the need to prioritize reduction and that recycling alone cannot solve the plastic pollution problem.

Pacific Environment's Vietnam-based Dung Viet Nguyen is optimistic about the prospects for change. "Our movement is very positive right now in Vietnam," he says. "The ideas have reached a lot of people, including students. They're involving themselves—making initiatives, doing cleanups, collecting plastic. And the government has been open to receiving comments from the people. We are taking the opportunity to show up and present our models."