BREAKING: Stop Polluting the Arctic, Indigenous Leaders Tell Carnival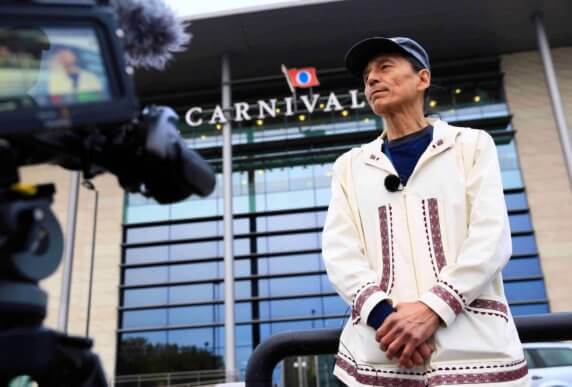 If you signed our petition demanding that cruise ship operator Carnival clean up its dirty ships, your voice is now being heard in the hallways of corporate power.
This morning, Pacific Environment joined a delegation of Arctic Indigenous leaders and other marine and environmental experts to deliver our petition demanding that Carnival Corporation stop using ultra-dirty heavy fuel oil in the Arctic and Subarctic.
Signed by over 100,000 activists from across Europe and North America, Arctic Indigenous leaders traveled to carnival's headquarters in England to deliver the petition and their own urgent messages to Carnival executives.
"I need to reach you. We have to save the ocean, says George Edwardson, President of the Iñupiat community of the Arctic Slope, Board Member for Inuit Circumpolar Council – Alaska.
"I'm 71 years old. When I was a teenager I was playing at a place that's now a mile out at sea.The sea has come inland another mile in my lifetime, and in my dad's and my lifetimes, a mile and three quarters. Carnival needs to listen to the will of people in the Arctic, and our Utqiaġvik declaration to end the use of heavy fuel oil in our ocean."
Delbert Pungowiyi, President of the Native Village of Savoonga, Alaska, stressed that his demand that Carnival stop using heavy fuel oil wasn't just about his communities and other Arctic peoples: "We're at a critical time to protect what we have left. It's not just about protecting our own people's survival, it's about the good of all."
Carnival claims that sustainability and human rights are core company values, but it cannot be an environmental leader while burning one of the dirtiest fossil fuels in the pristine Arctic.
We think it's high time that Carnival, the largest cruise line operator in the world with over 40% of the global market share and 10 brands that operate worldwide, respect the will of Arctic peoples and end its use of heavy fuel oil in this fragile and imperiled region.
We will report back to you to see if following the delivery of our petition Carnival will finally step up to meet its own higher standards.
PS: Check out this video of our petition delivery.