UN shipping agency greenlights a decade of rising greenhouse gas emissions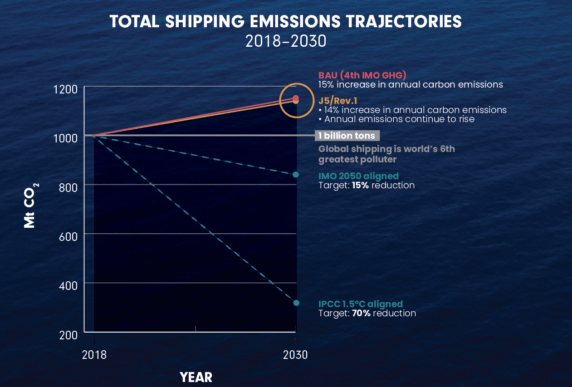 Governments have backtracked on their own commitments to urgently reduce climate-heating emissions from the shipping sector, at a key meeting of the International Maritime Organization (IMO) held virtually this week.
The IMO's marine environment protection committee approved a proposal that will allow the shipping sector's 1 billion tons of annual greenhouse gas emissions (GHG) to keep rising for the rest of this decade – the very decade in which the world's climate scientists say we must halve global climate emissions to stay within a relatively safe 1.5℃ of global warming as committed to under the Paris Agreement.
"The policy advanced today is a dereliction of duty in the face of climate emergency. As written, it would curb maybe 1% of shippings' annual carbon emissions by 2030," says Madeline Rose, Climate Campaign Director for Pacific Environment. "This means that emissions from the current global fleet would still rise by an estimated 14% this decade. We remind countries today that nature does not negotiate; that climate delay is now climate denial; and that catastrophic climate change is already here."
As acknowledged by many countries in the talks, the approved proposal breaks the initial IMO greenhouse gas strategy in three crucial ways. It will fail to reduce emissions before 2023, will not peak emissions as soon as possible, and will not set shipping CO2 emissions on a pathway consistent with the Paris Climate Agreement goals.
"Instead of charting a course for rapid decarbonization, the IMO has moved in a dangerous direction that will allow global shipping to continue with business as usual during perhaps the most critical decade to deliver on climate action," says Dan Hubbell, Shipping Emissions Campaign Manager for Ocean Conservancy. "We cannot afford to put off action when the evidence of climate change impacts—extreme weather events, warming waters, ocean acidification—is this clear. The IMO can and must do better than offer watered-down strategies to tackle one of the greatest global challenges of our time."
"While the world accelerates its commitments to address the twin crises of climate and biodiversity, the International Maritime Organization (IMO) went against that tide today and approved a business as usual framework which will allow global shipping emissions to increase over the next 10 years, says Andrew Dumbrille, Senior Specialist, Sustainable Shipping, WWF International. "The IMO and its members have not lived up to their global responsibility to urgently and rapidly reduce greenhouse gas emissions and impacts on climate and nature from shipping, starting in this decade. It's becoming more clear that in the absence of leadership from the IMO, the world will have to look elsewhere for the action and commitments required to meet Paris Agreement climate goals, including to measures by countries and regional initiatives."
Nations and regions serious about facing the climate crisis must now take immediate national and regional action to curb ship emissions. Nations should act swiftly to set carbon equivalent intensity regulations consistent with the Paris Agreement for ships calling at their ports; require ships to report and pay for their pollution where they call dock, and start to create low- and zero-emission priority shipping corridors.
For more information, contact:
Pacific Environment: Madeline Rose – [email protected]
Clean Shipping Coalition (CSC) and Seas At Risk: John Maggs – [email protected]
Transport & Environment: Faig Abbasov – [email protected]
Ocean Conservancy: Dan Hubbell – [email protected]
Carbon Market Watch: Wijnand Stoefs – [email protected]
WWF International: Andrew Dumbrille – [email protected]
DIS-MOI: Yuvan A. Beejadhur – [email protected]