Standing on Sacred Ground: Pilgrims and Tourists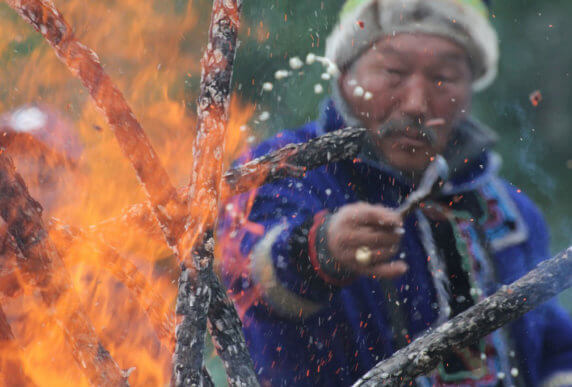 For generations, indigenous groups have been battling governments to protect their sacred lands. Danil Mamyev, a Pacific Environment partner and founder of the Uch-Enmek Nature Park in Russia's Altai region, and Caleen Sisk, chief of the Winnemum Wintu tribe in northern California, are the key figures in a new documentary by Sacred Lands Film Project. Standing on Sacred Ground: Pilgrims and Tourists is a moving portrait of Danil's and Chief Sisk's struggles to protect their ancestral lands from destruction.
Although they live thousands of miles apart, Danil and Chief Sisk find common cause in their drive to preserve cultural traditions by protecting their ancestral lands. In Altai, Danil founded Uch-Enmek Park as a place where Altaians can practice shamanistic traditions and rituals in an untouched landscape that includes a sacred mountain. In California, Chief Sisk is leading the Winnemum Wintu to defend ritual sites along the McCloud River, in northern California, from inundation by the Shasta Dam.
Danil and Chief Sisk emphasize the important role that land plays in traditional religious and spiritual beliefs. Danil noted that in Russia, offensive behavior in a church can lead to social condemnation and even legal punishment, but no such provisions exist for the protection of places that are holy to the Altaian people. In the film's most emotional moment, Chief Sisk visits a spring with deep spiritual significance to the Winnemum people. For the first time in historic memory, it has run dry as a result of climate change and poor water management by California's government. Chief Sisk's pain is palpable as she digs for water and finds only gravel in the spring's basin.
As I watched the film, I realized how much the preservation of sacred lands will soon become important to everyone. Today, Altaians must contend with tourists who take bus tours to local burial grounds and climb sacred mountains. The Winnemum have watched most of their tribal lands drown under the artificial Shasta Lake. But as climate change alters local landscapes and creates greater demand for scarce resources, we may have to make similar sacrifices, surrendering local lakes to irrigate crops, building homes atop once protected parks, and cutting roads through forests.

But there are less drastic measures we can take right now. In Altai, local people have begun installing solar and small-scale hydropower generators in remote villages. This saves them the cost of expensive imported diesel and obviates the need for construction of power plants and transmission lines. It's a win-win for local people. They preserve the land they depend upon for grazing, hunting, and fishing and save money on fuel costs. Just as indigenous peoples recognized the value of protecting sacred natural places long before the invention of national parks, they are now demonstrating the importance of sustainability. Will we listen before it's too late?