Ship Traffic Threatens Arctic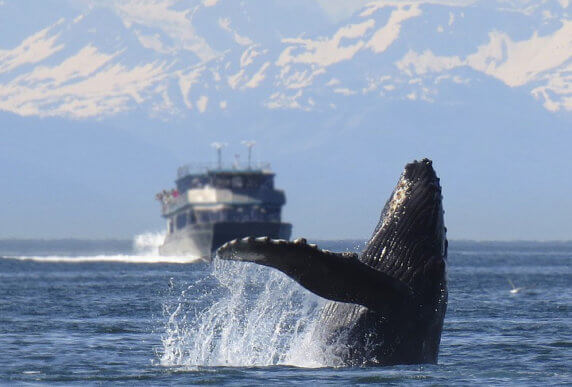 Climate change is melting the Arctic ice cap at an alarming rate. As the ice recedes, it gives way to new new sea routes—setting the stage for a dramatic increase in ship traffic that threatens the subsistence lifestyles of indigenous peoples and the health of the Arctic environment.
Why should we care that more oil tankers, cargo containers, and other commercial vessels than ever before will be traveling through the Arctic? Because ship traffic is a serious threat to our global climate and the indigenous peoples and wildlife that call the region their home:
Ships make noise that threatens whales and other marine mammals because it interferes with their migration routes, as well as reproduction and feeding behaviors.
Ships emit carbon dioxide, a major climate change culprit, and are a significant source of other air pollutants.
Ships strikes injure or kill whales and other marine mammals.
Ships pose risks of oil spills that would kill marine life and are very difficult to clean up, especially in the harsh and unpredictable conditions of the Arctic.
Ship traffic along the Northern Sea Route (or Northeast Passage), which runs from Europe across northern Russia and then through the Bering Strait has already increased because it reduces the time (and with it the expense) for a ship to travel from Europe to Asia or vice versa from 14 days to 7½.
Over the next seven years, ship traffic is projected to grow by leaps and bounds. According to the U.S. Coast Guard, three billion tons of cargo moved from Europe through the Bering Strait last year. That number is estimated to rise to 25 billion tons by 2017 and 50 billion tons by 2020.
The Northern Sea Route is just the tip of the iceberg, though. Another major sea route, the Northwest Passage, which runs across northern Canada and through the Bering Strait to Asia, is also opening up as the Arctic ice cap shrinks.

Right now there is only weak and outdated regulation of ship traffic in international waters that does not address the rapidly changing seascape in the Arctic. That's why Pacific Environment advocates at the highest international levels for strict environmental regulations. For example, we are one of only a handful of environmental organizations accredited to participate in shipping negotiations at the International Maritime Organization (IMO). The IMO is a United Nations agency that is currently developing rules to improve shipping safety and environmental protection in both Arctic and Antarctic waters through a Polar Code.
In addition to participating directly in meetings and the drafting of the Polar Code, we are spearheading efforts to coordinate with other groups so that the environmental community is able to advocate for strong environmental protections with one unified voice. We are also actively working with our indigenous partners to make sure they know about key decisions and processes at the IMO to ensure that Polar Code regulations protect indigenous cultural and subsistence traditions.
As climate change opens up the Arctic to increased ship traffic, we will continue our fight to ensure that its waters, wildlife, and indigenous peoples enjoy the greatest possible protections.  I'll be sure to keep you updated on our progress.