Save Endangered Whales from Big Oil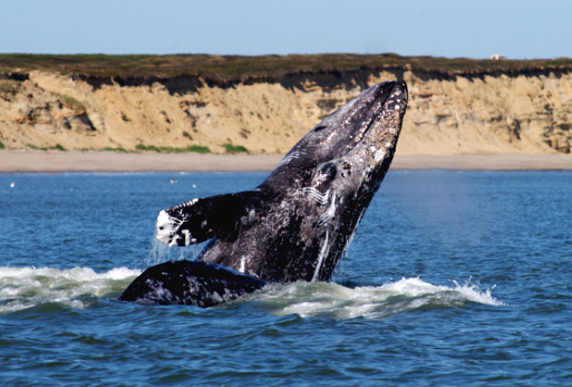 Sakhalin Island, sometimes called "The Edge of the Earth" lies off the coast of Russia and just north of Japan and looks out onto the vast Pacific Ocean. The beautiful island is already home to two large-scale oil extraction projects led by Exxon, Shell, and Gazprom, with highly detrimental effects on the ocean and wildlife in the area, including the critically endangered population of Western Gray Whales that feed in the area. Sakhalin Energy, a consortium of Gazprom, Shell Oil, and two smaller Japanese companies, is considering drilling appraisal wells in the summer of 2014, and installing a mobile offshore drilling platform called a jack-up rig.
Mobile offshore drilling units, such as jack-up rigs, have been responsible for several human and environmental catastrophes and close calls in the US and Russia in recent years.  In December of 2011, the Gazprom-owned Kolskaya jack up rig sank in the Sea of Okhotsk 200 miles off the coast of Sakhalin Island after conducting exploratory drilling on the Western Kamchatka Shelf. Tragically, 53 crew members perished in one of the worst disasters in the history of Russia's oil industry.
But it was a disaster that should never have happened: The Kolskaya's owners ignored laws prohibiting towing operations in the winter conditions that caused the Kolskaya to capsize. This was not the first time Gazprom flagrantly disobeyed the law. In 2011, a Kamchatka state environmental assessment review ordered the Kolskaya drilling project to update its project plans and resubmit them for a second review before receiving approval. Gazprom disregarded this order and its subsidiaries began drilling anyway.
Shell's mobile offshore drilling units, the Noble Discover and the Kulluk, narrowly avoided a similar disaster last fall while attempting to pioneer offshore drilling in America's pristine Arctic. In separate incidents, both rigs went adrift and grounded off the coast of Alaska, requiring rescue by the U.S. Coast Guard. This prompted the U.S. Department of Justice to investigate a number of potential violations of International Maritime Organization marine pollution regulations.  The US Environmental Protection Agency also fined Shell for numerous air pollution violations on both rigs.
Despite both companies' histories of flagrant safety and pollution violations, they may now install a third offshore rig in an extremely important ecological territory. These plans have not undergone the rigorous environmental impact assessment called for by the Western Gray Whale Advisory Panel.
It is completely irresponsible to proceed with drilling expansion when the impacts of the current projects still aren't fully understood because there has been no thorough environmental review. Additionally, both companies' disastrous recent history with mobile offshore drilling units does not instill confidence that mobile offshore platforms on Sakhalin II will operate safely and without posing threats to the Western Gray Whale.