RAIPON Reinstated: "A Collective Achievement"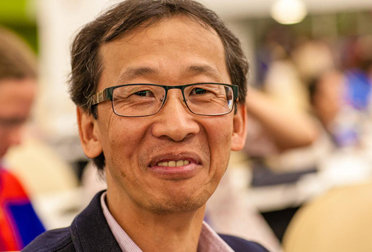 Rodion Sulyandziga was able to breathe a sigh of relief last week when Russia's Ministry of Justice announced that the country's leading indigenous organization would be allowed to operate again. For Rodion, an indigenous Udege from the Russian Far East, the Association of Indigenous Peoples of the North, or RAIPON, represents a life's work fighting for the rights of Russia's indigenous communities.
RAIPON's reinstatement is the result of a four-month struggle against Russia's legal bureaucracy, in which Pacific Environment, and our supporters, played a key role. "On behalf of RAIPON," says Rodion, "I would like to express my deepest gratitude to all those who have been with us during these difficult days and months, who have expressed solidarity, who did not keep silent, and who did not turn their backs. Thank you for your involvement and solidarity. This is a collective achievement."
Within hours of RAIPON's suspension by Russian authorities in November 2012, Rodion and Pacific Environment strategized outreach to key stakeholders and decision makers. For example, Pacific Environment engaged a broad network of environmental and indigenous rights NGOs for a joint appeal to Senior Arctic Officials, which called on the Russian Government to reinstate RAIPON's status within Russia so it could continue to fulfill its critical role as a permanent participant of the Arctic Council. We also mobilized over 1,500 of our supporters to write to President Putin and ask him to stop the silencing of indigenous voices in Russia.

RAIPON's suspension belongs in the broader context of increasing government pressure on civil society organizations. And it was only the latest in a series of governmental measures designed to gain greater control over the vast, fossil fuel-rich territories of the Far North. These areas are mainly populated by indigenous peoples and federal and regional actions are increasingly targeting traditional forms of economic activity like subsistence hunting and fishing to weaken local cultures and traditions and undermine indigenous opposition to the government's Arctic development plans.
RAIPON is not only the most influential organization defending Russia's indigenous communities, but also the only organization advocating for indigenous rights at international organizations, including, besides the Arctic Council, the United Nations Environment Program and the Norwegian Barents Secretariat.
Now that RAIPON is reinstated, Rodion and his team will continue their fight to protect Russia's indigenous communities from irresponsible and illegal resource development and destructive corporate practices. And at Pacific Environment, we will continue collaborating with one of our most important allies in our battle to protect both the Alaskan and Russian Arctic from resource extraction projects, oil spills, and industrial pollution.