Protecting Russian Rivers from Illegal Mining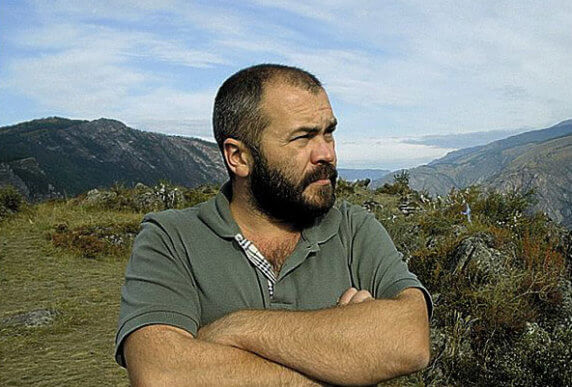 People have been searching for gold for thousands of years. It's an enduring dream that anyone can strike it rich by sieving river mud in search of that big gold nugget that will change their life.
Few ever imagine the terrible consequences of mining rivers for gold.
In the Altai region in southern Siberia, gold miners are building roads through untouched wilderness wetlands and forests, disturbing wildlife fighting for survival. Mining waste poisons the drinking water of local villagers with chemicals and toxic metals like mercury. And heavy machinery rips up river floodplains, often destroying entire watersheds.
Pacific Environment's partner Alexei Gribkov has been fighting an alarming increase in river gold mining in Altai with pioneering ingenuity. His work has been an inspiration to activists across Russia who want to end this outdated, highly destructive gold mining practice known as "placer gold mining."
First, Alexei partnered with Pacific Environment to build a public website that uses satellite imagery to provide reliable information about mining operations, including the permit boundaries which are routinely disregarded by mining companies and rarely enforced by local authorities. These satellite images also show Alexei's team where miners are digging up riverbeds—the cloudier the color of the river on the image, the greater the likelihood that it is being mined.
Then, citing the public's right to know, he obtains access to government mining lease documents to compare them with the mining company's actual operations in order to identify any legal violations.
Having identified sites of possible illegal activity, Alexei spends countless hours in the field to see the damage with his own eyes and collect photographic and other evidence.
Finally, armed with proof that miners are violating laws, Alexei relentlessly pressures the local environmental prosecutor to take action—with letters, phone calls and visits. He demands that the prosecutor launch an investigation, put a stop to all illegal activity and fine the company for breaking the law. If the violations are particularly severe, the license may even be cancelled.

Alexei by his nature is a fighter for justice. Through creativity, courage and sheer determination, his innovative tactics have secured impressive victories for Altai's threatened wilderness:
Gold miner Horizon had to stop illegal operations in three (!) nature reserves after Alexei showed that the company ruined valuable fishing creeks and cut down ancient Siberian pine trees—destroying the entire river basin in the process.
Three new nature refuges were established to protect wetlands, lakes and forests, and another was enlarged to better protect owls, grouse, deer and badgers.
Several nature refuges now have stronger protections, including one that has banned mineral extraction and another prohibiting all logging.
Two regional protected areas are expected to be combined into one national park in 2017, a move that will increase protections for moose, brown bears, wolves, weasels and owls.
With Alexei's support, several villages are organizing to halt new gold mining, which would destroy watersheds and pollute drinking water.
What's more, Alexei's work is transcending local boundaries and may help tip the balance toward a ban on placer gold mining in all of Russia.
In response to Alexei's many documentations of the terrible destruction caused by river gold mining, which tends to be unprofitable to boot, the federal agency overseeing Russia's natural resources is already citing Altai as an example of "what not to do."
Seizing on this momentum, Pacific Environment is helping scale up Alexei's work to other regions in Russia, including the spectacular Amur River basin.
We hosted a three-day workshop this past spring in Novosibirsk to connect Alexei with other Russian activists and U.S. mining experts to find new ways to fuse technology and activism. This workshop seeded a coordinated national campaign now under way to stop this destructive gold mining practice in other parts of the country.
These achievements demonstrate how much can be accomplished—even under terribly unfavorable political circumstances—when we support the vision and determined action of grassroots leaders.
Alexei and his group, Gebler Ecological Society, won these impressive victories despite intense government repression.
Last year his organization was branded a "foreign agent" under a Russian law restricting citizen action by groups like Gebler. Ongoing court battles, loss of funding, and the prospect of steep fines have made Alexei and the Gebler team pull together even more.
And these challenges have brought into sharp focus Alexei's tremendous courage and personal integrity. There are many months when he does not pay himself a salary so that he can afford field trips and keep staff in the organization.
"Resisting the state machine is very difficult," says Alexei, "but we are not giving up."