Protecting America's Great Lakes and Russia's Lake Baikal from Hydropower Damage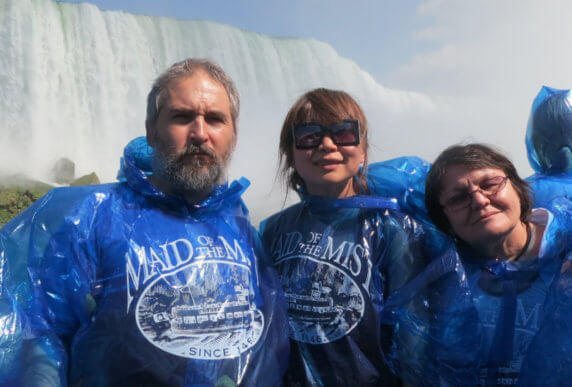 Pacific Environment brought together conservationists from Russia and the United States to protect two of the world's most important freshwater lake ecosystems from hydropower damage.
The North American Great Lakes form the largest group of freshwater lakes on earth. Lake Baikal in southern Siberia, Russia, is the world's deepest lake at 5,387 ft. and likely the world's oldest lake at 25 million years. Together, these lakes hold about 40% of the world's surface freshwater.
We invited a small team of Russian ecologists, hydrologists, and activist to tour northwest New York State to meet with stakeholders involved in the creation of new water level regulations for Lake Ontario, the easternmost Great Lake. Because hydropower dams limit natural water level fluctuations, they have been wreaking havoc on the coastal ecosystems and wildlife of the Great Lakes basin and Lake Baikal.
On Lake Baikal, the Irkutsk dam has raised the overall water level and increased the frequency of high-water events. As a result, the properties of local peoples have been destroyed and historic relics damaged. In addition, soil erosion has increased and a loss of nutrients has greatly reduced the numbers of fish, many of which play an important role in the local economy. On Lake Ontario, coastal meadows that once were brimming with many different species have been replaced by cattail stands that sustain only very few fish and bird populations.
To prevent more damage and improve lake health, conservationists in Russia and the United States have been advocating for regulations that would allow for more natural fluctuations of the water level to minimize harmful impacts on wildlife and coastal wetlands.
Their efforts are helped along by the fact that governments too are looking to improve water level regulation to maximize economic benefits by limiting erosion and flood hazards to settlements, optimizing energy generation, and boosting recreational tourism.
In an exchange of ideas and best practices, the Russian team met with a wide variety of Lake Ontario stakeholders, including staff of the U.S. Army Corps of Engineers, who are responsible for coordinating the regulation of water levels, and lakeshore property owners, who are opposing new regulations for fear that their lake houses will be destroyed by storms and floods.
Upon their return, the Russian team will continue their courageous advocacy work for better water level regulation of Lake Baikal. Working with scientists, government officials, business representatives, and En+ Power—the company that owns the dam blocking Lake Baikal outflow—they will play an instrumental role helping to balance environmental concerns with economic interests to preserve the pristine beauty and unique wildlife of Lake Baikal, the "pearl of Siberia."