Shell and Gazprom Scrap Dangerous Sub-Arctic Offshore Oil Drilling Platforms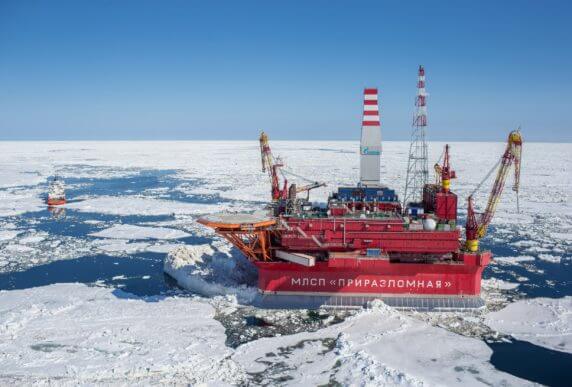 Decision Casts Further Doubt on Viability of Arctic Drilling
Pacific Environment learned today that joint venture partners Royal Dutch Shell and Gazprom scrapped plans for two offshore platforms for Sakhalin II, an enormous sub-Arctic oil and gas project off the coast of Sakhalin Island in Russia.
Shell and Gazprom decided not to move forward with a risky mobile platform that was proposed for 2014. They also delayed, until at least 2017, a final decision on the construction of a dangerous permanent offshore platform right by the principal feeding grounds of Western Gray Whales. Numbering only around 150, the Western Gray Whale is one of the most critically endangered whale populations on earth.
Prior to Shell and Gazprom's decision, environmental groups, including Pacific Environment, World Wildlife Fund, and International Fund for Animal Welfare, warned banks providing financing to Sakhalin II that the two platforms would threaten the Western Gray Whales and violate the financiers' high-profile, public commitments to ensuring the oil project will not harm this critically endangered population.
"Environmental groups and scientists have warned for years that the Sakhalin II project could lead to the Western Gray Whale's extinction, so this decision is a victory for the whales," said Doug Norlen, Pacific Environment's Policy Director.
But mobile platforms not only threaten the critically endangered Western Gray Whale, they also pose serious risks to the environment and to oil drilling crews. Despite the fact that such rigs have been responsible for several human and environmental catastrophes and close calls in U.S. and Russian Arctic and sub-Arctic waters, Shell and Gazprom had originally proposed to deploy the mobile drilling platform in 2014.
In December 2011, after conducting exploratory drilling on the Western Kamchatka Shelf, the Gazprom-owned Kolskaya mobile jack-up rig sank in the Sea of Okhotsk, 200 miles off the coast of Sakhalin Island. Tragically, 53 crew members perished in one of the worst disasters in the history of the Russian oil industry. Prior to the sinking of the platform, the rig had violated multiple Russian environmental laws.
In 2012, one of Shell's mobile offshore drilling units in Alaska, the Kulluk, narrowly avoided disaster when it went adrift and grounded off the coast of Alaska, requiring rescue by the U.S. Coast Guard. This event prompted the Coast Guard to ask the U.S. Department of Justice to investigate potential violations of international marine pollution regulations, and the U.S. Environmental Protection Agency fined the Kulluk for numerous air pollution violations in a separate incident.
"The scuttled plans, together with all the other catastrophes and close calls in recent years clearly call into question the fundamental viability of offshore oil and gas drilling in Arctic and sub-Arctic waters," said Kevin Harun, Pacific Environment's Arctic Program Director.
Note: News of the scrapped platforms can be found on page 10 in the "Report of the 13th Meeting of the Western Gray Whale Advisory Panel," an independent expert scientific body that was established as a condition of bank funding for Sakhalin II.