Russian Environmental Hero Dmitry Lisitsyn Wins Goldman Award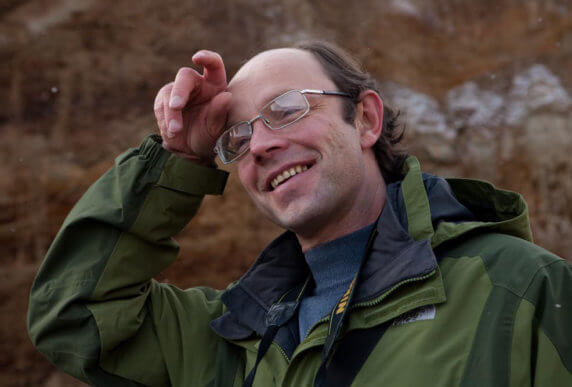 San Francisco, CA – Pacific Environment is pleased to announce that Dmitry Lisitsyn has been awarded the Goldman Environmental Prize – one of the most prestigious environmental awards in the world. Lisitsyn is one of six recipients awarded for his work and leadership to protect one of Russia's most critically endangered ecosystems from large-scale petroleum development, located on Sakhalin Island, Russia.
Pacific Environment nominated Lisitsyn for the Goldman Prize.
"Dmitry's passion and determination to protect Sakhalin's marine environment over the past 15 years have not gone unnoticed," said Leah Zimmerman, Interim Executive Director for Pacific Environment. "His effective grassroots organizing and engagement with international project investors have led to several victories that resulted in the much needed regulatory oversight for oil and gas development in one of Russia's most highly-fragile marine environments – and also in a place where environmental campaigning is often politically challenging. We are thrilled Dmitry is a recipient of this monumental award and hope that this prize will further assist Sakhalin Environment Watch's ongoing efforts to defend the environment."
Sakhalin Island boasts some of the worlds' greatest marine biodiversity including a critical breeding area for endangered Western Pacific Gray whales and some of the Pacific oceans' most productive salmon spawning grounds. The discovery of vast oil and gas reserves here led to rapid industrialization and new infrastructure on the island which, in turn, led to massive harvesting of timber resources and salmon poaching. Sakhalin Island is plagued by two major petroleum projects: Sakhalin I, led by Exxon, and Sakhalin II, led by Sakhalin Energy, a consortium of petroleum companies including Shell, Mitsui, Mitsubishi and other companies. Sakhalin has attracted the most significant foreign investment in Russia, accounting for more than US$100 billion for Sakhalin I and II alone. Sakhalin I and II are in the exploitation phase, while several other large offshore projects are in varying stages of development and some are frozen in negotiations.
As the director of Sakhalin Environment Watch, Lisitsyn has been a keen-eyed watchdog on the island for over a decade, successfully lobbying for stricter oil industry regulations, cleanup of toxic sludge, and the discontinuation of waste-dumping in the ocean. By forging relationships with indigenous leaders, fisherman, scientists, government officials, and Sakhalin Energy representatives, Lisitsyn has successfully negotiated to stop harmful impacts to the environment of Sakhalin. His work with the IUCN Western Gray Pacific Advisory Panel led to a moratorium on seismic testing activities in the summer of 2009. His work also forced Sakhalin Energy to comply with stricter erosion protection and safety measures regarding the project's pipeline construction.
Despite these successes, the Western gray whale population is still under threat. Recent estimates indicate that there could be fewer than 130 remaining, and the greatest threat to this whale are offshore oil and gas activities in its feeding area during the summertime feeding season. The Sakhalin Energy operates the Sakhalin II oil and gas project near Piltun Bay, the primary feeding area for Western gray whale mothers and calves. The Sakhalin II project facilities include two offshore platforms, a subsea pipeline, and several onshore structures. In partnership with the international NGO community, Lisitysn also leads a campaign to stop the development of a third offshore oil platform proposed for construction in the sensitive Piltun area. The petroleum consortium plans to conduct seismic surveys this summer – when the most Western Gray whales will be in the area – posing an unacceptable level of risk to whales that depend on sound for communication, feeding and navigation.
Oil and gas development on Sakhalin Island has not only threatened the region's ecosystem, but has also impacted the livelihoods of fisherman and indigenous communities. Dmitry's work helped earn more rights and benefits for the island's indigenous communities. Lisitsyn is most proud of the campaign he led that helped establish the Vostochny Wildlife Refuge, which protects the rivers and forests in one of the world's few remaining untouched wild salmon ecosystems. Working with Sakhalin Environment Watch, Lisitsyn is now campaigning for the creation of a new protected area that will include the coastal areas adjacent to the sea shore of the refuge.
"I am honored to be a Goldman prize winner and pleased to say that this would not be possible without the support from the communities of Sakhalin and the help of international NGOs such as Pacific Environment," stated Dmitry Lisitsyn. "I can only hope that the Goldman will continue to inspire grassroots activists around the world to continue their efforts to save the environment from heavily-financed, destructive industries such as oil and gas."
Endorsed by more than 100 Heads of State and often referred to as the Nobel Prize for the environment, the Goldman Environmental Prize is awarded each year to environmental heroes from six continental regions. Each individual Prize recipient will receive $150,000 and will be presented with the Prize at the San Francisco Opera House on Monday April 11, 2011. The Goldman Environmental Prize supports individuals struggling to win environmental victories against the odds and inspires ordinary people to take extraordinary actions to protect the world. The Goldman Environmental Prize was created in 1990 by civic leaders and philanthropists Richard N. Goldman and his wife, Rhoda H. Goldman. Learn more at www.goldmanprize.org.
Sakhalin Environment Watch (SEW), Yuzhno-Sakhalinsk, collaborates with Russian and international NGOs to protect the forests and marine ecosystems of Sakhalin from on- and offshore oil and gas extraction. SEW promotes community participation in the protection and sustainable management of the forest, and also conducts public education campaigns on forestry issues. SEW is one of the main groups monitoring the impacts of the Sakhalin II oil and gas project.
Pacific Environment is an international environmental non-profit dedicated to protecting the living environment of the Pacific Rim. For over twenty years Pacific Environment has been supporting the Russian environmental movement through grants, coalition building and joint-campaign work. Pacific Environment nominated Lisitsyn for the Goldman Prize. This is the second time one of Pacific Environment's grantees has been awarded the Goldman. In 2008, Marina Rikhvanova of Baikal Environmental Wave, won the Goldman Environmental Prize for her work fighting to protect Lake Baikal, the world's oldest freshwater lake.