Arctic Indigenous Leaders From Alaska, Russia and Canada Make Historic London Address on Impacts of Arctic Ocean Shipping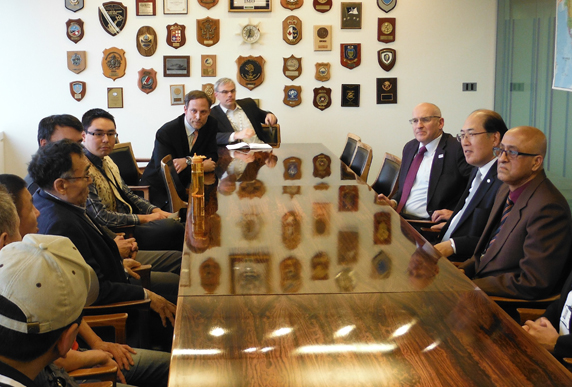 Six Arctic indigenous leaders from Alaska, Canada, and Russia will travel to London next week to address the International Maritime Organization (IMO) regarding the impacts of shipping in the Arctic on indigenous communities.
This is the first time that the IMO, which sets international shipping law and recently adopted the Polar Code, will hear Arctic indigenous perspectives. Despite shipping's impacts on indigenous peoples, there is no indigenous representation at the IMO.
Indigenous communities are on the front line of impacts associated with climate change, including expanded shipping in the Arctic. Their communities continue to rely strongly on affected marine wildlife and fish for food. At the same time, they may be the first expected to respond to an oil spill or rescue in remote arctic waters.
United Nations Secretary-General Ban Ki-moon highlighted Arctic indigenous concerns while accepting an award from the Arctic Circle conference earlier this month:
"What happens in the Arctic affects us all—but let us remember those on the front lines: the many indigenous peoples who have lived here for centuries.
They contribute to the Arctic's diversity and sustainable resource management. Yet as with developing countries, those who have contributed least to climate change are being hit first and hardest by serious consequences for their safety, health and human rights.
Indigenous peoples' traditional knowledge systems of living in harmony with nature, and their contributions are essential to help us achieve the Sustainable Development Goals and combat Climate Change. I urge you to ensure that indigenous peoples, their rights and their sociocultural contributions, remain central as we address these shared challenges."
The Arctic indigenous group will address the IMO plenary session at 1:30 pm on Wednesday, October 26. (Rules for media access are below.) They will also meet separately with the IMO Secretary-General.
As well, there will be a media availability for the panelists at 10 am in the lobby of the IMO on Thursday, October 27 that does not require accreditation.
Concurrently, the paper "Arctic indigenous food security and shipping" submitted by several NGOs will be considered. The paper finds that Arctic indigenous communities' food security is inextricably tied to the bounty of the sea and threatened by increased shipping.
As well, international efforts to phase out the use of heavy fuel oil in the Arctic—the top identified shipping-related threat to marine resources and arctic communities—are gaining significant momentum as an international coalition, the Clean Arctic Alliance, has formed.
In a paper submitted for next week's meeting, the United States and Canada formally notified the IMO that "a heavy fuel oil spill in the Arctic could cause long-term damage to the environment."
This follows March 2016 commitments made by President Obama and Canadian Prime Minister Trudeau to "determine with Arctic partners how best to address the risks posed by heavy fuel oil use and black carbon emissions from Arctic shipping." In recent weeks, several other northern nations, as well as several international shipping associations, have expressed support to phase out use of this dirty fuel in the Arctic.
Heavy fuel oil use is already banned in Antarctic waters.
---
Contact:
Kevin Harun
Arctic Program Director, Pacific Environment
907-440-2443
[email protected]
Sue Libenson
Senior Arctic Program Officer, Pacific Environment
907-303-0022
[email protected]
If you choose to attend the panel, here are the rules for IMO accreditation:
http://www.imo.org/en/MediaCentre/IMOMediaAccreditation/Pages/Home.aspx
Panelists:
Tagak Curley lives in Rankin Inlet, Nunavut, Canada and was a founding member and the first president of the Inuit Tapirisat of Canada. He has for many years been politically active at the local and territorial level. Currently he is president of the Nunavut Construction Corporation.
Hans Lennie lives in the Canadian Beaufort region in Inuvik. He is a member of the Inuvik Hunters and Trappers Committee and the Inuvialuit Game Council and works for Raytheon.
Eduard Zdor, former director of the Chukotka Marine Mammal Hunters Association located in the Russian Far East. He has worked extensively with indigenous groups in both Alaska and Chukotka and is an advocate for the benefits of shared indigenous knowledge and observation. He is currently a doctoral candidate at the University of Alaska.
Nikolay Ettyne, leader in the Russian Chukchi community and Secretary, Chukotka Marine Mammal Hunters Association.
Austin Ahmasuk lives in Nome, Alaska. He is a traditional hunter and fisherman who works as the Marine Advocate for Kawerak, an Native organization addressing broad social issues for the Bering Strait region.
Vernor Wilson lives in Dillingham, Alaska. He has advocated for a broad range of subsistence, fishing, and economic development issues in his region.