NEWS FROM THE FIELD: The Birth of Russia's Anti-Coal Movement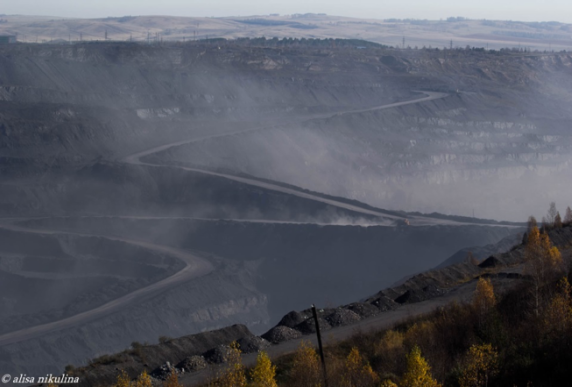 Not Sitting on the Fence: A Coal Check-in with Vladimir Slivyak of Ecodefense!
The people who live near Berezovsky coal mine are fed up. On February 17, local citizens took to the streets near the Siberian town of Novokuznetsk in the heart of Russia's famed Kuzbass region, one of the largest coal mining areas in the world. For 10 hours, about 80 people blocked the road to the Berezovsky open-pit coal mine. Five protesters were detained, and two of them sentenced to two nights in jail and fined $180 and $360.
Why were they willing to go to such great lengths?
They feel like they've been shortchanged for too long by greedy businesses that profit at the expense of the region's human and environmental health. "Our cancer wards are full," screamed one of the detained activists to the policemen, in a posted YouTube video of the event. The protest is the latest in a series of demonstrations, large and small, that have been shaking up the region in recent years.
Pacific Environment has organized several coal-related events involving Russian environmental and indigenous activists. We orchestrated documentary film screenings in Paris during the 2015 climate talks. We also brought Russian activists on a study tour of the United States and organized a regional event to look at the impact of the open-air coal shipping terminals in Russia's Far East. One of the groups involved was Ecodefense!, a regional organization headed by Vladimir Slivyak. We interviewed Vladimir to gain insights on the birth of this movement.
When did you first get involved in anti-coal work?
Vladimir Slivyak (VS): About five years ago, Ecodefense! published a report on the ecological catastrophe in Kuzbass, where open-pit coal mines are everywhere.
What drives you to fight coal pollution?
VS: Coal is a climate killer. It also kills people. Every year, thousands die from diseases caused by coal mining and related industries. It affects far more people than those directly involved in the mining process. There's a clear understanding among Russians that coal is the dirtiest of all fossil fuels, that it gravely pollutes the environment, and contributes to lethal diseases.
Yet, we've never had an ecological campaign against coal. When we began our work five years ago, we knew how important this issue was and couldn't ignore it. We thought that once we got going, others would join our campaigns. Today, we see lots of civic action to stop the export of coal through open-air terminals in the Far East. It's a sign of progress, and we're optimistic about our future.

Why do you think grassroots organizing is an effective tactic to rein in coal pollution in Russia?
VS: Exports of fossil fuels provide half of the country's income. Russia's authoritarian government relies on big corporations tied to oil, gas, and coal. The government is alarmed by civil society and tries to limit its growth. The government wants to keep our citizens away from the decision-making process. But the authorities can't ignore large-scale grassroots movements that demand change. Mass civic action is the only way of changing anything in our country.
What are you and your organization doing to mobilize grassroots resistance to coal pollution?
VS: We inform people about the evils of coal and its monumental detriment to the environment. We connect different communities and help organize protests. It's important to empower people who are well-informed and want to do something about the problems that surround them. Our actions—from a street demonstration to a lawsuit—must be effective and results-oriented. We can't let people down or become disillusioned with this process.
What was your biggest success in 2017 and what are your plans for 2018?
VS: In 2017 we saw dozens of demonstrations against coal in Kuzbass. We've never seen anything of this sort in Russia. Some of the protests in Kuzbass were synched with parallel demonstrations in the Far East, which was also unprecedented. Last year, the civic movement against coal was finally born in Russia! In 2018, we want to grow that movement and protect it from the authorities. We'll keep up the information campaigns, organize conferences, and help communities fight for a clean environment.
Are there ways that Pacific Environment's support has been helping you build your campaign and mobilize local communities?
VS: In 2016, Pacific Environment organized a conference in Vladivostok. It was an important step. Several activists from Kuzbass traveled there, building a link to local organizers in the Far East. The 2015 film screenings in Paris were influential in telling the story of Russia's coal struggles to an international audience.
What do you need most from the international community moving forward, or how can the international community best support your efforts?
VS: We need your voices. Other countries should know about our work and Russia's problems with coal. The existence of a campaign against coal in Russia will probably surprise many people around the world. There's very little information about the anti-coal movement. We want to inform more people across the world and put more pressure on the coal companies since they also work in other countries and should care about their reputation and branding.
Pacific Environment supports anti-coal activism by connecting Russian environmental and indigenous activists to each other and to the international movement to end the mining and burning of coal.