Californians Voice Opposition to Offshore Drilling at Sacramento Rally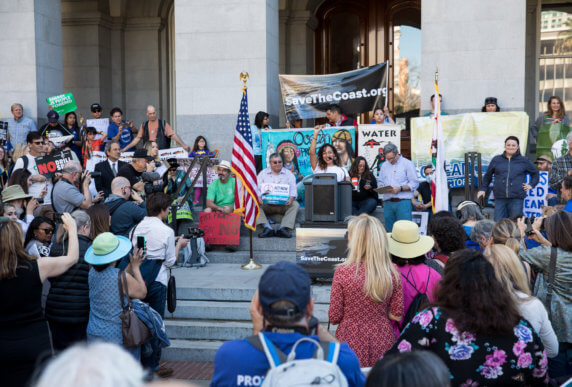 Sacramento, 8 February 2018—Today, hundreds of concerned residents, elected officials, business owners, fishers, tribes, and environmental and social justice advocates attended the Bureau of Ocean Energy Management (BOEM) meeting in Sacramento to voice their opposition to Trump's offshore drilling plan. Attendees gathered from across the state to protest the federal proposal to open California's shores to new oil and gas drilling, after decades of bipartisan coastal protection. There have been no new federal leases off California since 1984.
Denied the opportunity to publicly testify at the meeting, participants demonstrated on the steps of the Capitol to take a united stand against the federal administration's offshore leasing plan. A recent survey shows that nearly seven out of ten Californian's oppose new offshore drilling. This protest comes on the heels of similar demonstrations in Oregon and Washington. All week, West Coast communities have affirmed their reliance on a healthy coast, which powers a $56 billion ocean economy and supports 500,000 jobs in tourism, recreation and fishing.
"This is a devastating hit to local businesses such as mine," said Kenny Belov, owner of the San Francisco-based TwoXSea, a sustainable seafood purveyor for Bay Area restaurants. "My business and the livelihoods of the fishermen and suppliers I work with depend on thriving, sustainable fisheries that would suffer immensely in the event of an oil spill."
TwoXSea is one of more than 1,000 West Coast companies signed on to the Business Alliance for Protecting the Pacific Coast. Launched this week, the group represents a diverse range of industries–technology, tourism, seafood, and real estate, among others–but stand united in a shared belief that a healthy coast is vital to their bottom lines, as well as the lifestyles of their customers and staff.
Many demonstrators, some of whom traveled to Sacramento from Los Angeles and the central coast, voiced concerns about oil spills and toxic pollution. They pointed to catastrophic spills such as the 1969 Santa Barbara oil spill, the 2010 Deepwater Horizon disaster in the Gulf of Mexico, as well as the unnervingly recent Refugio spill in 2015, again in Santa Barbara county.
California Assemblymember Monique Limón from Santa Barbara, who introduced an Assembly Joint Resolution against new offshore drilling, spoke at the demonstration, highlighting the risks offshore drilling poses to her community. "Oil spills are very real and I stand with the millions of Californians to strongly oppose this dangerous offshore drilling proposal," said Limón. "Californians are proud of our commitment to clean and renewable energy, and the proposed decision by the President and his administration to expand offshore oil drilling is an affront to our values and a threat to our economy. The increased threat of oil spills jeopardizes our tourism industry, coastal economy, and marine ecosystems."
"This hurts all of us," said Maura Sullivan, Coastal Band of the Chumash Nation, Ocean Protectors Coalition. "Even without the risk of an inevitable oil spill, our air quality will surely worsen. Offshore oil and gas drilling means more ships, more pipelines and more port and refinery emissions."
"Healthy oceans are vital to the health of all humans, an important part of our traditional foods, the health of the landscape, produce oxygen, is an integral part of the water cycle, and is precious to the web of life, which we must stand for," said Hillary Renick from the Sherwood Band of Pomo Indians.
While the Bureau of Ocean Energy Management (BOEM) is not allowing public testimony in today's meeting, it is accepting public comments on the Draft Proposed Program online through March 9. After the comments are received and environmental reviews conducted, the Proposed Program will be released, triggering another comment period. The Final Proposed Program is expected by 2019. The current draft proposed plan includes six lease sales off northern, central, and southern California.
Photos and video from today's event are available for media use at http://bit.ly/OceansVisuals.
CONTACT:
Jenny Park, Resource Media, [email protected], 415-867-1166
Additional media contacts for organizing groups:
Resource Media: Jenny Park, [email protected], 415-867-1166
Pacific Environment: Domenique Zuber, [email protected], (415) 399-8850
Audubon California: Garrison Frost, [email protected], (310) 990-5173
Azul: Marce Gutiérrez-Graudiņš, [email protected], (650) 260-4290
California Coastkeeper Alliance: Leah Campbell, [email protected], (401) 369-5411
Center for Biological Diversity: Miyoko Sakashita, [email protected], (510) 845-6703
Citizens for Responsible Oil and Gas (CFROG): Kimberly Rivers, [email protected], (805) 727-1393
Defenders of Wildlife: Kim Delfino, [email protected], (916) 201-8277
Environment CA: Dan Jacobson, [email protected], (916) 743-5356
Environmental Defense Center: Linda Krop, [email protected], (805) 636-3345
Friends of the Earth: Marcie Keever, [email protected], (415) 350-3992
Greenpeace: Tim Donaghy, [email protected], (510) 325-9186
Oceana: Ashley Blacow, [email protected], (831) 224-7484
NextGen America: Will Simons, [email protected], (914) 523-7397
NRDC: Linda Escalante, [email protected], (818) 397-7865
Ocean Conservation Research: Michael Stocker, [email protected], (415) 464-7220
Ocean Protectors Coalition: Maura Sullivan, [email protected]
Sacred Places Institute: Angela Mooney D'Arc, [email protected]
Save Our Shores: Margaret Collins, [email protected], (831) 334-2947
Sierra Club California: Katherine Garcia, [email protected], (347) 636-0979
Surfrider Foundation: Pete Stauffer, [email protected], (503) 887-0514