Endangered Western Gray Whales Once Again Saved From Big Oil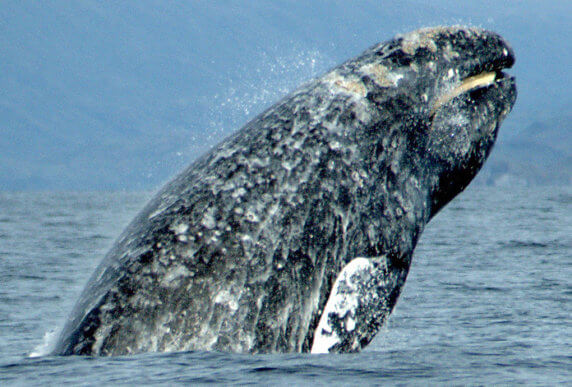 A few months ago we told you about a great victory for the Western Gray Whale: Shell Oil and Russian oil giant Gazprom scrapped its plan to build an oil drilling platform in the middle of the whales' summer feeding ground.
Now, I'm happy to tell you that there has been another win in our efforts to protect the endangered whales. Together with our grassroots partners, and a group of Russian experts, we have delayed the construction of a new pier that would have been used to ship supplies to an oil project operated by another oil giant, ExxonMobil.
There are only about 150 Western Gray Whales left in the world, and their summer feeding grounds in the waters near Russia's Sakhalin Island are right in the middle of two major oil and gas projects. ExxonMobil, the operator of one of these projects, recently decided that it needs a new pier to unload drilling equipment. However, ExxonMobil pledged years ago to protect the gray whales, and construction of the pier would cause a major disturbance to their feeding and calving grounds.

We worked with Sakhalin Environment Watch, one of Russia's strongest environmental organizations and helmed by Goldman Environmental Prize winner, Dmitry Lisitsyn, to conduct an environmental assessment of the pier project. Sakhalin Environment Watch convened a diverse group of experts on marine mammals, fisheries, and oceanography to examine the potential environmental impacts of the pier project. All of the experts agreed that the pier would not only cause higher gray whale mortality, but would also damage local fisheries—a major source of income for many locals–and destroy seabird habitat.
Upon reviewing the experts' conclusions, a government panel determined that it needs more time before making a final decision about permitting ExxonMobil to build the pier. This temporary delay is an important victory that may ultimately result in the cancellation of the project.
As more and more mining and logging projects and oil pipelines encroach on Russia's last untouched wilderness areas, conservation organizations can increasingly count on scientists, and even businesses and government agencies, to agree that protecting the environment must be a priority. We will work with all of these allies as we continue our fight against the pier.
Stay tuned for more updates on our campaign to save the Western Gray Whale from extinction.