Courage Trumps Fear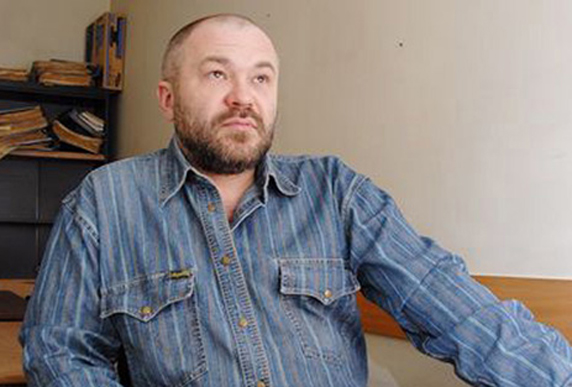 Aleksey Gribkov did not back down when Russia's state security agencies harassed him and his organization to drop a lawsuit that ended up becoming a landmark legal victory for Russia's environmental movement.
But before I tell you Aleksey's remarkable story, I'll introduce you to one of the people who has helped build the foundation for his success.
Let me take you back in time to a late summer night in Russia. The year is 2012, and my Pacific Environment colleagues and I are sitting in a local bar in Vladivostock with dozens of NGO partners and allies from throughout the Russian Far East and Siberia. We are all gathered around a projector, looking at pictures of a white-bearded man with sparkling eyes, recalling his deeds. That man is my late colleague, Misha Jones.

Everyone is laughing when an activist from near Lake Baikal shares one of his favorite memories of Misha. He had noticed that whenever Misha translated his jokes into English, all of the non-Russian speakers would laugh. When he asked how he was able to translate even the most complicated Russian jokes, Misha replied that instead of translating, he simply told a different joke in English.
Others are sharing their own stories about Misha's ability to find a "common language" with almost everyone, and especially his ability to communicate with people who didn't agree with his environmental ideals.
As I sit and listen and laugh and toast to Misha's indomitable spirit, I realize just what a great connector and coalition-builder he was. And that it is due in part to his dedication and the enthusiasm he inspired in others that all of us are gathered here, in a local bar in Vladivostock, during our annual Sosnovka meeting, which brings together 50 leading environmental and indigenous activists from all corners of Russia to strategize campaigns and exchange resources.

At the end of the night, we toast to another environmental hero, Aleksey Gribkov, you've met him above, as he accepts the Misha Jones Award, which honors a Russian activist who best embodies Pacific Environment's grassroots approach to creating social and environmental change. Aleksey receives the award for his tireless work to preserve the Altai Republic's forests from logging, including the lawsuit I mentioned in the beginning of this post that ended up becoming a landmark legal victory.
So here is Aleksey's story, as promised.
Originally, Aleksey wanted to become a biologist, not an environmental activist. But when he returned from the army and started roaming his beloved Altai forests again, he noticed that poachers were ensnaring endangered argali sheep, snow leopards, and Siberian tigers. He gathered several friends and they started patrolling for poachers, eventually organizing volunteer brigades of over 100 villagers and school children and founding the Gebler Ecological Society.
But soon Aleksey and his friends encountered a much larger threat. Logging companies were clear-cutting a rare and ancient taiga forest in the Zalesovsky State Nature Preserve, despite its legal status as a "protected area" exempt from industrial activity. His appeals to regional government agencies all received the same disappointing response: no laws were being violated.
So Aleksey decided to pursue an unorthodox and audacious strategy. He brought a civil suit defending the environmental rights of all citizens before the Zalesovsky Regional Court, demanding that the leases the logging companies had received from local government agencies be invalidated and the cutting cease.
Intimidation followed. While Gebler Ecological Society vs. Altai Region Forest Management Service was pending in regional court, intense government pressure subjected him and his group to endless audits and investigations, culminating in accusations of racketeering. But Aleksey's tenacity paid off. In August 2010, a regional court ordered the logging to cease.

Today, the director of the government agency named in the lawsuit is under criminal investigation and held personally responsible for the damage he wreaked on the Zalesovsky preserve by selling the logging rights that authorized clear-cutting in a protected area and resulted in 6.5 million rubles' (or over $200,000) worth of damage.
Pacific Environment supported Gebler Ecological Society's landmark lawsuit with a $10,000 grant. "We were able to establish a legal precedent that is without parallel in Russia," says Aleksey. Indeed, this victory has far-reaching consequences throughout Russia because now civil society everywhere can challenge the common practice of state agencies permitting industrial activity on land where it is legally prohibited.
And I know that this win, and subsequent legal action holding a government employee accountable for the environmental damage he caused, would not have been possible without the invaluable legal advice that Aleksey and his organization received from a growing network of allied environmental groups in Russia, which Pacific Environment's staff, past and present, has helped build and nurture over the last 25 years.