Communities Stand Up to Coal in Putin's Russia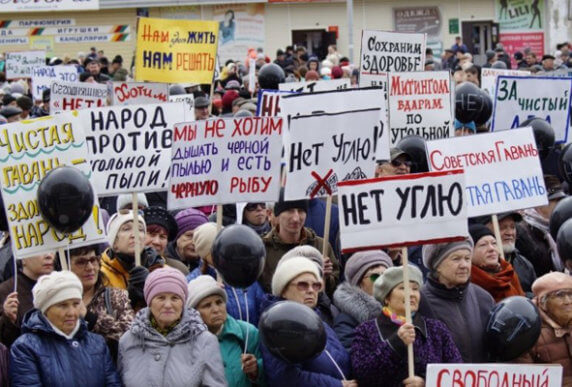 Mass demonstrations are popping up all over Russia. Why? Because people are fed up with breathing, eating, and drinking toxic coal dust. Along the way, these protesters are disrupting President Putin's last-gasp attempt to profit from coal before it lands on the ash heap of global energy history.
Last summer, activists and villagers used hundreds of cars to block coal miners from going to work to set up a new open-pit coal mine near the Siberian village of Apanas.
Police arrived but they did not arrest any activists. It turned out that the coal company did not have a license to open a new mine. Because of the courage of the protesters, all construction for the new mine has been halted—for now.
The successful resistance of the people of Apanas is a hopeful sign in a region covered in toxic coal dust. Apanas is located in Kuzbass—home to the ancestral lands of indigenous Shor and Teleut.
It's also Russia's largest coal mining region.
Once a verdant place, Kuzbass is now covered with giant open-pit coal mines. These mines are operated alongside, often even inside, the boundaries of villages and fields where they poison drinking water, fruits and vegetables, and people's health with coal dust. This dust contains dangerous heavy metals like arsenic and mercury and can cause allergies, lung diseases, cancer, even premature death.
Coal Export
But toxic coal dust is not just a health threat to local communities living near open-pit mines. Kuzbass coal is loaded onto trains in open cars for export. Winds and rain deposit hundreds of pounds of coal dust per train into towns, lands, rivers, and coastal shorelines along the rail tracks leading to coal export terminals.
One such terminal is located in Slavyanka, a Siberian city at the mouth of the Amur River about 200 miles from Vladivostok. Here over 2,000 people took to the streets to protest last summer.
Every day, trains over 40 cars in length enter Slavyanka loaded with coal to be transported around the world. Offloaded from the trains into an open-air terminal, and then re-loaded onto ships for export, additional tons of toxic coal dust escape into the city, harming residents.
Pacific Environment's partner Ecodefense has been working hard to amplify people's concerns about the terrible health impacts of coal dust. The group has successfully been mobilizing communities to speak up—including in Apanas and Slavyanka. Once on no one's radar in Russia, this health and energy issue is now inflaming Russian citizens at the grassroots level and bringing communities together to demand better protections from toxic coal dust.
We're here to support our partners and local communities along the way. Over the past two years, Pacific Environment has hosted a series of coal events for Russian coal campaigners. Read on to find out how these events highlighted the terrible price coal in Russia is exacting on people and nature and connected local activists with peers from the U.S., China, the Philippines, and Europe for shared learning.