Snow Leopards Saved From Gas Pipeline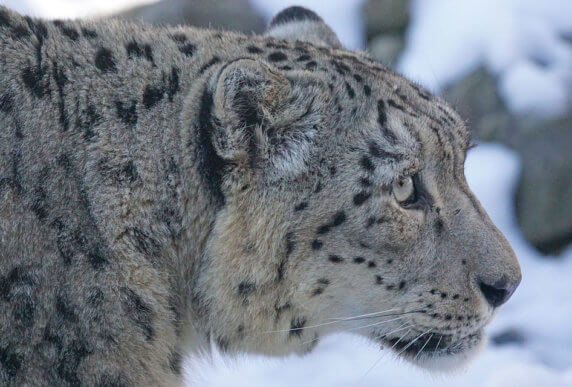 After years of local and international resistance, Russia's oil giant Gazprom finally abandoned plans to build a gas pipeline that threatened indigenous cultural sites and untouched wilderness in the Altai Republic in Siberia.
In the last decade, the construction of multi-national pipelines has received worldwide attention—the fight against the Keystone XL pipeline in the U.S. and Canada is a good example. Not only do they cost billions of dollars to build, but they also threaten to devastate ecosystems, pollute water sources, and jeopardize public health.
In 2006, Gazprom proposed to build 1,600 miles of pipeline to deliver natural gas from Russia to China. Part of the pipeline was supposed to cut through the Ukok Plateau, a remote and pristine grasslands area located in the heart of southwestern Siberia. The Ukok Plateau is part of the Altai Mountains region of Russia that borders China, Kazakhstan and Mongolia. The plateau is considered sacred by the indigenous peoples of Altai and it is home to many ancient cultural artifacts and endangered wildlife, including the snow leopard, Argali mountain sheep, the steppe eagle, and the black stork.

Right away, Pacific Environment started working closely with local activists to campaign against the construction of the Altai gas pipeline. Together we hosted public outreach events to counter the oil giant's false claims that the pipeline would bring cheap energy to the people of Altai—a powerful promise in an area so remote that many inhabitants do not have access to electricity. We also started working with local activists and entrepreneurs to bring solar power to remote mountain regions. Thanks to these efforts, traditional shepherds now carry solar cells instead of diesel generators to their summer pastures in Altai's mountains.  Finally, we led outreach efforts to reach the United Nations and potential investors to grow international opposition to pipeline construction.
Earlier this year, Gazprom stated that the company is not currently working on the Altai Gas Pipeline and is not planning to fund any work on it in 2014 or 2015. Instead, Russia and China agreed to build a pipeline in the Russian Far East, sparing the unique and sacred ecosystems of Altai.
This is a big win for the natural and cultural treasures of the Altai Republic. But we will remain watchful in case there is any attempt to revive the idea of the Altai gas pipeline. We will also be closely monitoring the planned new pipeline through the Russian Far East.