A Heartwarming Story: Russia's Wild Tiger Population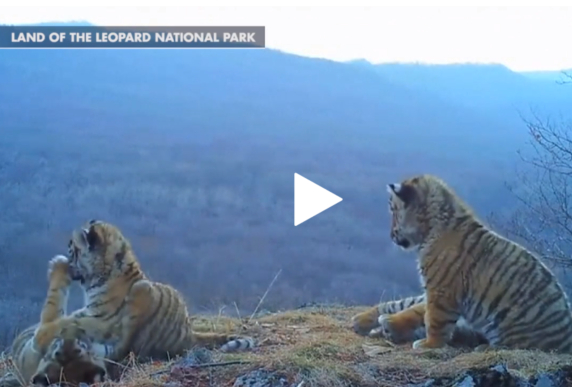 In this cold weather season, here's a heartwarming story from the Russian Far East. And while I'm not usually one for watching cat videos on YouTube, this story comes with the cutest footage I've ever seen of tiger cubs. Check it out!
For the first time ever, four Siberian tiger cubs were caught on camera in the Land of the Leopard National Park, in the Russian Far East's Primorsky Krai (a maritime territory). The cubs playing with each other isn't just amazingly cute, it's also evidence that the attention and investment in helping tigers survive is paying off.
Like all tiger populations, the Siberian tiger population in the wild was driven toward extinction in the 20th century. Since the early 2000s, however, their population in Siberia has nearly doubled, now counting almost 600. In this 2013 throwback video from our YouTube channel, a local activist explains that technology and education are necessary to stop poachers—a primary threat to the tiger's survival in the Russian Far East.
In 2008, the Russian Government created Land of the Leopard National Park —where the four cubs are having so much fun these days—to protect Siberian tigers, Amur leopards, and their habitat.
In the Park's early days, Pacific Environment supported local environmental activists to catch poachers and put out forest fires. Back then, forest fires were often set deliberately by poachers hunting these big cats to distract park rangers.
In response, local activists organized volunteer fire brigades to prevent and fight forest fires in collaboration with National Park staff. Educational efforts have also paid off. Activists undertook mass public education efforts, aimed particularly at children and teenagers. Today, young Russians are speaking up against poaching and voicing their support for tiger and leopard conservation.

Pacific Environment funded these local activists as well as the installation of camera traps in the park (like the ones that captured footage of the four cubs), as well as in snow leopard habitat in the Altai Republic. The motion-activated cameras help researchers track population numbers, understand the behaviors and range of the animals, and decide how best to protect critical habitat.
It's your support, and the support of other activists like you, that helped bring these cubs to life. Thank you.